Rosé Champagne Tastings
Valentine Wines:
Champagne and California Rosé
QRW Tasting Team
---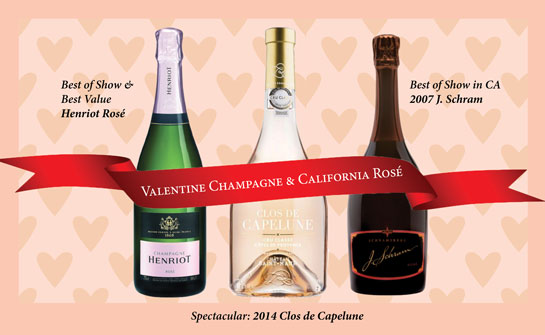 There's nothing romantic about the origins of Valentine's, which has its roots in a pagan Roman fertility rite. In mid-February, a goat would be sacrificed and skinned. The skin would be cut into strips where Roman priests would gently hit women who eagerly awaited it believing it promoted fertility. Christianity came along and sanitized the paganism: Venus was out, Cupid was in; Valentine's was given religious respectability and related to Valentinius, a Christian martyr; and February 14 became the new authorized church date. Along the way, it became related to Courtly Love, a complex 12th century expression of loving nobly. Later it took on still more variations and devolutions. Cards were exchanged. The Victorians sentimentalized it. Along the way, the saint was ignored, until Valentine's became what it is today—a successful secular and commercial concoction of courtly ritual, pathetic poetry, long-stemmed roses, and chocolates. Wine, alas, has never really been a part of Valentine's.
But what's Valentine's without Champagne, specifically Rosé Champagne, the most sensual bubbly in the world? Drink it and a life-long love affair has commenced. It's more expensive than white Champagne—it's more labor intensive and time-consuming: the winemaker must either add a small amount of Pinot Noir to the blend, or the let the juice of the grapes gently kiss the skins during fermentation. Either way, it's a difficult art. Understandably, Rosé production at any Champagne house is small, about five percent. Expense aside, you're adding to the most romantic part of the evening.
The sensuality starts with the color—soft blush, pale salmon, sometimes a soft reddish hue; it is rarely pink. For us, the ideal Rosé Champagne has a torrent of tiny bubbles offering flavors of strawberry, raspberry, toast, with frothy creaminess; the wine is crisp and delicate, with aromas of freshly baked brioche. It's an extraordinary confluence of flavors, a brilliant marriage—a consummation devoutly to be wished. And the consummation is furthered by an incomparable pairing: warm slices of pan seared foie gras lightly salted with fresh figs.
Richard L. Elia, Publisher
Non-Vintage Rosé Champagne Tasting
We tasted sixteen non-vintage Rosé from leading producers. Herein our top six. We keep tasting notes to a minimum as most share the same color and flavors. It is the charm of the color, the intensity and fullness of flavor and finish that make the best Rosé.
Please Note: As always we taste wines that are readily available and which our readers can easily buy at retail. All tastings are blind.
---
Baron de Rothschild Rosé (France), $110. Salmon hue. Rich raspberry/strawberry notes, nutty, honey flavors, nicely textured finish.
Delamotte Rosé (Le Mesnil sur Oger), $90. Pale salmon hue, raspberry, showing a dominance of Pinot Noir, elegant, refined finish.
Deutz Rosé (Ay), $70. Pale salmon, with honey notes, fresh brioche, lemon, and creaminess. Engaging and satisfying finish.

Henriot Rosé (Reims), $ 60. Salmon hue. Elegant, richly textured, raspberry flavor, with toasty brioche with a long, lingering conclusion. BEST OF SHOW and BEST VALUE
Taittinger Prestige Rosé (Reims), $70. Dark red rose hue. Cherry and raspberry flavors. richly textured, with a long and satisfying finish.
P.S. If you're looking for the Best of the Best "Vintage" Rosé, then look no further than Cristal, which has made the BEST OF SHOW at QRW tastings for the last four years. The experience, however, will set you back in excess of $400 a bottle
California Sparkling Wine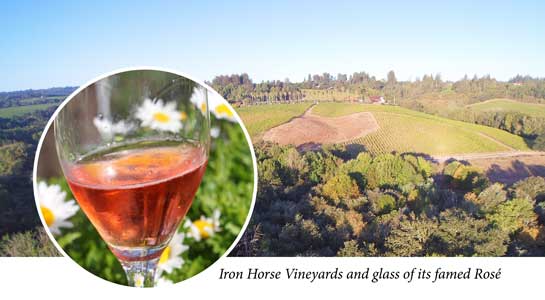 If you haven't noticed, California is making some superb sparkling wine, every bit as worthy as the French. Further, California sparkling wines are priced well below Champagne, which continues to live off its reputation. In fact, most of the fine sparkling wine houses in California are French owned: Moet (Chandon), Roederer (L'ermitage), and Taittinger (Domaine Carneros), and others. Time was when the wine world said Champagne soil and terroir were unique, and imitations of same were futile. That's changed. California is no pretender, it's a competitor, which the French understood when they started buying property there decades ago.
---
2012 Domaine Carneros Rosé (Carneros/Napa), $39. Attractive salmon color. Rich Pinot Noir fruit, floral notes, lush, richly textured finish.
2008 Iron Horse Rosé (Green Valley, Russian River Valley), $43. Deep salmon hue, showing rich fruit and a dominance of Pinot Noir. Crisp, stylish, creamy, with finesse and a refined finish.
2007 J. Schram Rosé (Carneros, Anderson Valley, Sonoma, Monterey), $125. Expensive, yes, but a stunning and brilliant Rose`. Strawberry and cherry, tropical fruit flavors, lemony, cherry, with a dominant Chardonnay feel. Complexity with grace. BEST OF SHOW
2007 L'ermitage Rosé (Anderson Valley), $50. Salmon color, frothy, creamy, rich apple, lemony with hazelnuts and elegance. Sumptuous finish.
2012 Schramsberg Rosé (North Coast), $45. Salmon hue. Pinot fruit upfront with strawberry, spice, and freshly baked brioche, with rich and lasting finish.
---
A Valentine's Rosé from Chateau Saint-Maur

Rosé—serious rosé from south of France—is getting respect. What used to be a casual wine, a luncheon refresher, has been gaining reputation and attention. Greater heed has been paid to terroir, to harvesting, and to modern methods. The price is reflective of the intensive labor and production. Sasha Lichine's wines from southern France, for example, are selling for up to $100 a bottle; wines from Provence are seeing prices from $40 to $100.
One such attention-getter hails from 2014 Chateau Saint-Maur—the Clos de Capelune (Cote de Provence, $65). Rosé shares much in common with Rosé Champagne: each is pale salmon in color; each has strawberry/raspberry flavors, with hints of lemon. The Clos de Capelune has a lovely salmon-pink color, with a blend chiefly of Grenache, Syrah and some Cabernet Sauvignon. The wine is firmer than most rosé and decidedly less sweet. The wine is complex. Soft peach notes intermingle with raspberry and strawberry flavors; there is a soft lemony feel in mid-palate, which enhances the acidity and crispness of the wine, and which finishes with finesse. It's the kind of Rosé that invites interest and a second glass.
---
Related articles, 33rd Annual Best of the Best Wines:
• 33rd Annual Best of The Best: California Pinot Noir
• 33rd Annual Best of The Best: Champagne Tasting
• 33rd Annual Best of The Best: Non-Vintage Champagne
• 33rd Annual Best of The Best: California Cabernet and Red Blends
• 33rd Annual Best of The Best: California Sauvignon Blanc