Aristocrats of the Table
Thoughts on America's eating and dining habits.
Richard L. Elia
---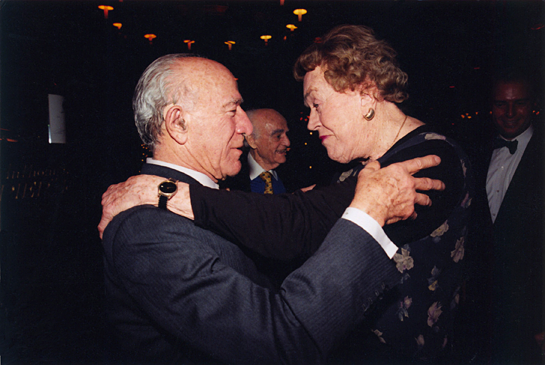 Julia Child and Robert Mondavi changed America's dining and wining habits.
The only time to eat diet food is while you're waiting for the steak to cook.
— Julia Child

They represent a sizable portion of the country. While not part of the much maligned "one percent," they have more than enough expendable income to buy expensive produce and to dine out regularly. You often see them at Farmer's Markets and other food emporiums buying organic tomatoes and anything healthy. They're well educated, have designer kitchens, care about the environment, and support family farming. Their age brackets are from the late twenties to the early sixties. They're called locavores or foodies or Portlandias, uncharitable names they don't like but are nonetheless comically characterized in a New Yorker illustration by Emily Flake, wherein two women are food shopping, with one saying to the other off-handedly, "Oh, it's the best thing since small-batch, artisanal, unsliced bread." At QRW we refer to them as aristocrats of the table. They cast a cold eye on frozen foods, fast foods, and supermarkets. They like slow foods and small portions that are cooked and executed well. They or their children often attend cooking classes and schools — formerly Home Economic programs for the intellectually uninterested.
In 1963 Julia Child, a student at Le Cordon Bleu, changed the "Home Ec" image with her PBS show "The French Chef." By the early 1960s, French was in. Train travel died and air travel grew. Foreign travel became popular and returning tourists learned to love French and Italian cooking. Some had served in World War II and recalled European cuisine and wine. The American aristocrats of the table began to view the country as a backwater. Once we were an intellectually and culturally deprived nation, the kind that made our writers despair and leave for Europe from 1870 to 1920. Three decades later, the aristocrats of the table saw the country as culinarily deprived: it needed to oust two older American icons: Fannie Farmer (who deserved a better fate) was more than mere recipes and a box of chocolates — her Fannie Farmer Cookbook (formerly Boston Cooking School Cook Book, 1896) is still in print; and Betty Crocker, the 1921 mythic figure created by home economist Marjorie Husted and developed by General Mills, both of whom were turning us into biscuit bumpkins. We needed nouvelle cuisine.
Les Amis de la France
Enter Julia who had lots of help with the makeover: Chef Escoffier was already one of the immortals, the Zeus of cooking; Le Cordon Bleu schools came to the United States; Home Ec programs were now known as hospitality colleges; Charles de Gaulle wanted to heighten France's "politics of grandeur" and in doing so exported his cuisine and wine. (What he didn't export was his male chauvinism. DeGaulle, as the latest book In the Shadow of the General reveals, believed women's proper place was "among the sauce pans," which wouldn't have set well with the emerging Feminist movement; interestingly, amidst the decades of Feminism, Julia was comfortable among her sauce pans, and encouraged women to return to the kitchen and to learn the art of French cooking.) Jacqueline Kennedy became another kind of American icon — a sophisticated one; she charmed de Gaulle and America by loving things French, transforming the cooking habits at the White House and making Champagne and Bordeaux vital parts of state dinners. Georgetown became a hot dining spot. Nearby D.C. resident and wine critic Robert Parker started the Wine Advocate in 1978 and became the ultimate Francophile, a gourmet of French cuisine and advocate of Bordeaux and its legendary 1982 vintage. Manhattan was being revived and restaurants with it. James Beard, M.F.K. Fisher, Craig Claiborne, eminent publishing sensations, were Francophiles who expanded and sophisticated the country's culinary tastes. Over the decades, serious cooking and condiments became the domain of the élite de la table.
Chefs were also elevated and became aristocrats of their personal tables. They were once merely "downstairs" members of the house staff, but they became famous and soon populated PBS television (another aristocratic bastion) and other networks, and only needed Olympian first names: Julia, Jacques, Ming, Lidia, Emeril, Wolfgang, Rachel, Bobby, Todd, and a host of others. Media food writers made them aristocrats, and they, in turn, enabled their food audience to become aristocrats of the table, encouraging them to dine at the latest restaurants, to be in awe of food critics, and to spend considerable sums for restaurant food that could be only sustained by the exorbitant prices on the wine list. Major cities and their upscale suburbs, of course, had more aristocrats of the table. Interestingly however, the aristocracy wherever they resided behaved like a democracy when it came to wine: most wouldn't pay as much for it as they did for degustation menus, preferring wine by the glass, rather than a better marriage of the two by a well selected bottle. The economy didn't impact their food or dining habits, just their wine ways.
In Search of Nostalgia
Henry Allen, former writer and editor for the Washington Post, in a food review for the Wall Street Journal claimed that the "upper classes" have turned food critics and chefs into today's culture bearers. "Food connoisseurs," he writes, "now have the status of intellectuals ... without the serious thinking. Chefs are artists rather than servants." Allen says the aristocrats of the table suffer from a "chronic disease among upper class Americans [called] nostalgia." At QRW we see them as the latest in a long line of romantics, the new Rousseaus idealizing nature and family farming, searching for Hemingway's A Moveable Feast. Interestingly the aristocrats have little difficulty listening to the democratic patter of a waiter, introducing himself as their equal: "Hello, I'm Robert, your waitperson for tonight." Robert proceeds to give a litany of chef's specials and their "unique" preparations that no one can remember but it allows Robert to feel superior among the aristocratic gastronomes. Gourmand, "once considered an insult," says Allen, "has become a compliment to foodies ... locavores ... rebelling against Clarence Birdseye's frozen foods and Colonel Sanders's fried chicken."
Blogs, Cable Media, and the Common Man
The romantic aristocrats of the table are suspicious of some media who have made food too common. Take food blogs, for instance. At last count, there were over 4,200 of them, few of which are widening our culinary horizons. There is a view, perhaps questionable, that blogs, like cable cooking shows, are actually a democratic — the common man's — reaction to the slow roast proclivities of the aristocracy of the table. Cable Cooking shows are more like cooking spectacles, which can be comic in the extreme — almost a parody of serious cooking shows. We're shown how to bake cupcakes, cook omelets, hamburgers, prepare Texas chili, and other mundane dishes. Critic John Mariani maintains he has "near zero interest in TV food shows, where hijinks, hair, and cleavage have replaced authoritative instruction." Nor is the problem merely American: it's global, and England and Asia are rivaling us in the cause célèbre of things culinary.
Industrial and Artisanal Foods
Henry Allen, referenced above, quotes Mark Kurlansky, author of Birdseye (2012), who offers an observation about our eating habits: "people who are accustomed only to artisanal goods long for industrial [food]. It is only when the usual product is industrial that the artisanal is longed for," which is largely the case for nostalgic aristocrats. It's "why artisanal food, the dream food of family farms, caught on so powerfully in California," says Kurlansky. It ultimately found its way to Oregon and the rest of the country. After World War II, industrial food and agribusiness boomed, and Julia Child partially reacted to this in her first book, Mastering the Art of French Cooking (1961). But even Julia learned to admire some frozen foods and microwaves that quickly defrosted her frozen food. She taught the next several generations of chefs to cook, to see culinary life not just as a need but as a civilized extension of that need. Today, over 50 years after Julia's first book, her lessons seem lost: aristocratic chefs act more like CEOs, seeking franchises, and becoming marketable television personalities more than cooks. Some chefs leave their aristocratic perches preferring a few minutes of groundling fame competing in the exertions of "Iron Chef," or, worse, descending to "Hell's Kitchen," where vulgarity and Chef Gordon Ramsay awaits them. The class exclusivity of chefs and the aristocrats of the table is not a consciousness of food so much as a consciousness, as one critic puts it, of "condiment envy." It's a furtherance of what Allen calls America's chronic disease. (This same disease also went viral some years back in the wine world.) Perhaps a better food society can be had not by having aristocratic and culinary class distinctions, but by remembering that some industrial foods and much slow cooking have made American cooking taste better. Industrial foods need not mean unhealthy, and artisanal foods need not assume a spiritual high horse. Both, in the end, are interested in one thing: profits.