All Things Grape and Small
Randy Sheahan
---
Cattle farmers in France's Languedoc region have found a novel use for red wine, reports the website Drinks Business. They feed it to their livestock, along with traditional fodder, and claim it leads to leaner, more tasty beef. Hmm, don't know about that, but it certainly gives new meaning to the phrase "contented cows."
---
Take a back seat, France and Italy. The U.S. is now the world's number-one consumer of wine, having purchased 347 million cases of fermented grape juice (valued at $32.5 billion) in 2011. That's a 5.3 percent increase over 2010 and marks the 18th consecutive year wine sales have grown in the U.S. An especially big gainer (fueled no doubt by Prosecco mania) was sparkling wine, with sales of 17.2 million cases, the most for the category in 25 years.
---
Wasps play a central role in wine making, says a recent Yale University study. Not only do they prey on insects harmful to viticulture, but in visiting vines they also leave behind traces of the fermentation yeast Saccharomyces cerevisiae, without which grape juice would not become wine. (To learn more about the Yale study, see the article "Role of social wasps in Saccharomyces cerevisiae ecology and evolution," in the July 30, 2012 Proceedings of the National Academy of Sciences.)
---
The Bordeaux Third Growth Chateau Calon-Ségur has been sold for an estimated $211.5 million to Suravenir, the life insurance arm of the French bank Credit Mutuel Arkea. The most northerly of Haut-Médoc's classified growths, Calon-Ségur sits on 235 acres (182 of which are given over to vines) in the commune of Saint-Estèphe.
---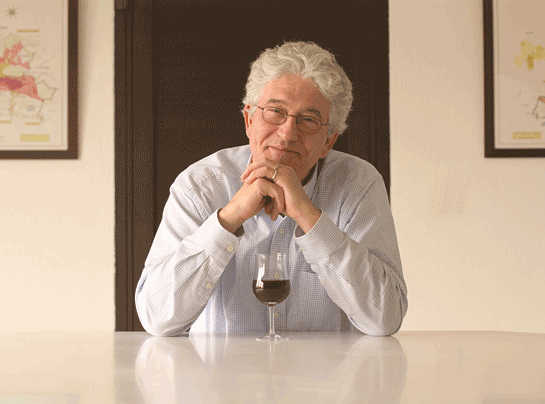 Jacques Lardière, Louis Jadot Winemaker
One of QRW's favorite persons, Jacques Lardière, the longtime winemaker at Burgundy's Maison Louis Jadot, is retiring. During his 42 years at Jadot, the exuberant, keenly intelligent Lardière pioneered many of the winemaking and viticultural advances now widely adopted in Burgundy. Among other things, he opted for longer skin macerations and hotter fermentations, to obtain more depth and concentration; he stopped fining and filtering, to assure complexity; and he established green harvesting, to manage crop size and improve wine quality. Yet most of all, he was always (and indeed still is) a nice guy. Have a great retirement, Jacques.
---
Saint-Émilion is the only Bordeaux wine region that regularly (every 10 years) updates its wine classifications, upgrading some chateaux, while occasionally downgrading others. The latest Saint-Émilion update was announced recently (September 6, 2012) by INAO, the official governing body for French wine appellations. The big winners were Chateau Angelus and Chateau Pavie, both of which were elevated to the elite Premier Grand Cru Classé "A" level, where they join Chateau Ausone and Chateau Cheval Blanc. Other chateaux making out well were Canon-La-Gaffelière, Larcis-Ducasse, La Mondotte and Valandraud, all of which were promoted from Grand Cru Classé to Premier Grand Cru Classé "B", where they'll hobnob with the likes of Figeac, La Gaffelière and Troplong-Mondot.
---
The Australian wine producer Penfolds recently introduced 2004 Kalimna Block 42 Cabernet Sauvignon, which at around $168,000 a bottle is purported to be the most expensive wine in the world. But alas, only 12 bottles of Kalimna Block 42, which comes in a unique, obelisk-like, glass vessel, are available for the world. Pity, as we had our heart set on buying a couple.
---
Wine scientists at the University of British Columbia claim to have developed a transgenic fermentation yeast that eliminates the harmful allergens which prevent many people from drinking red wine.
---
Maconnais, the only Burgundy region with no classified wines, wants to correct that oversight, having recently petitioned INAO, the official overseer of French wine appellations, to elevate several Macon crus, among them Pouilly-Fuissé, to Premier Cru status. Stay tuned.
---
The Bordeaux First Growth Chateau Latour says it will stop offering wine on a "future" basis (i.e., when it's still in barrel and two years away from being bottled and released) starting with the 2012 vintage, and thenceforth will put Chateau Latour and its second wine, Les Forts de Latour, on the market only when it feels a particular vintage is ready to drink.
---
A new study by Purdue University researchers suggests that Piceatannol, a compound found in red wine, fights obesity by blocking the development of fat cells in the body. (For further details, see the March issue of the Journal of Biological Chemistry.
---
French researchers, who breathalized 3,000 young men and women leaving bars one Saturday night, posit that people with tattoos drink more alcohol than those without. (For an expanded account of this truly important study, see the July issue of the journal Alcoholism: Clinical & Experimental Research.)
---
Dr. Ruth Westheimer, the famed TV sex therapist, has released a line of three low-alcohol (6 percent) California wines — a Chardonnay, Cabernet Sauvignon and White Zinfandel — under the brand name "Dr. Ruth's Vin d'Amour." "My idea," she told the New York Post, "is that just the right amount [of alcohol] will awaken your senses and arouse you."
---
And there's another way drinking wine can help you in bed. Researchers at the University of Nebraska-Lincoln say wine drinkers are less likely to be ravaged by bed bugs than teetotalers, as the pesky little vampires don't like alcohol in their food. No doubt this information had everyone leaning forward in their seats when it was announced last May at the National Conference of Urban Entomology in Atlanta.
---
But then, you don't even have to drink wine to benefit from it. Researchers from New Zealand's Victoria University claim, according to The [London] Daily Telegraph, that "Just the thought of a glass of wine [can] be enough to help you relax because of the power of positive thinking." It has to do with certain "response expectancies," which, the researchers say, make mere thoughts of a glass of wine seem like the real thing. Yeah, right . . .
---
And finally, here's the perfect gift for that person who has everything: Wine underpants. Indeed, a Seattle, Washington company, Archie McPhee, has just launched Vinderpants, a 95-percent cotton, 5-percent spandex brief designed to fit snuggly around a bottle of wine. Not only are Vinderpants "great for dinner parties and blind tastings," says Archie McPhee's founder, Mark Pahlow, but they make "an ideal covering for a bottle of Two Buck Chuck." Anyone who wishes to know more (and who doesn't?) can visit the Archie McPhee website, www.mcphee.com, where they'll also find information on the Edgar Allen Poe Lunchbox ("sure to please the Goth teenager in your heart") and Bacon Air Freshener ("the perfect way to brighten any carnivore's day").