33rd Annual Best of The Best
Non-Vintage Champagne
QRW Tasting Team
---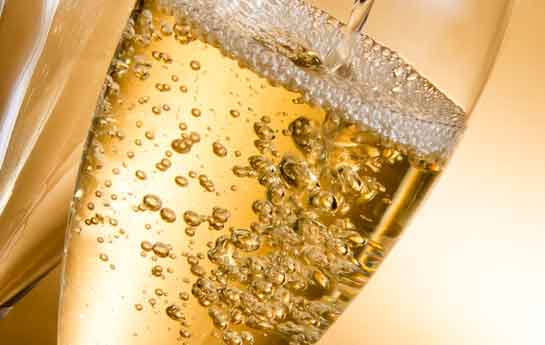 The price of Champagne continues to rise. A check of prices from last year's QRW Best of The Best Champagne tasting shows an overall rise of 15% to 20% depending on the producer. The reasons for the increase haven't changed: demand, labor intensiveness, and not a little greed on the part of producers and growers. No matter, Champagne lovers are willing to pay because there is nothing like the bubbles that come from northern France's great growing regions. (Besides the holidays are nearing and Champagne consumers are often indifferent to prices.) Blind taste Champagne with virtually any other sparkling wine, and the difference in aroma, texture, and finish is enormous. Champagne is, well, Champagne. Anything else is anticlimax.
As is our custom, we severely limit tasting notes, which are often parodied and go largely unread anyway. Champagne flavors are incredibly similar. Alphabetically they are: apple, apricot, brioche, coffee bean, creamy, fig, hazelnut, lemony, nougaty, nutty, toasty, and steely about covers it. We have no difficulty in admitting, however, that there aren't many Champagnes we don't admire.
Champagne producers depend on Non-Vintage wines for their livelihood. Thus, consistency must be maintained. Buy Bollinger and you expect the Bolly to be like the Bollinger you had last time. Ditto for all the others. The quest for us at QRW then is to find Non-Vintage Champagnes with enough texture, balanced acidity, and finish to satisfy, which our selections do. Twenty Brut and ten Blanc de Blancs were blind tasted. Prices may vary from region to region.
Brut Non-Vintage
AYALA Brut, Ay, $50. One of the best buys in the market: chalky, with lemon, apple, and biscuit.
Bollinger Special Cuvee, Ay, $75. Apple, nectarine, with brioche notes, nutty with a classic, lingering finish.
Charles Heidsieck Brut Reserve, Reims, $45. Still one of the best Champagnes in the market. Creamy, rich coffee bean notes, apple and apricot, with long nougaty finish.
Deutz, Ay, $45. Good buy. Silky, pear, lemony, with rich bread/dough flavor and firm and lively finish.
Louis Roederer Premier Brut, Reims, $50. Toasty, lemon curd, grapefruit, firm mineral notes, apricot and nectarine in a lively Roederer finish.
Taittinger La Francaise, Reims, $50. Reliable and consistent. Engaging apple tones, with lemon, nuttiness, brioche, and satisfying finish.
Blanc de Blancs Non-Vintage
Baron de Rothschild Blanc de Blancs, Cotes des Blanc & Montaigne de Reims Villages, $125. Creamy, pear, hazelnuts, deep texture, rich brioche notes and elegant finish.
Delamotte Blanc de Blancs, Le Mesnil-sur-Oger, $78. A Champagne that needs your attention. Nice mineral feel, with apple and lemon curd, crisp notes, and rich finish.
Henriot Blanc de Blancs, Reims, $60. Green apple and apricot upfront with brioche, pear and peach on the palate, almondy, and elegant finish. For the price, it's the best Blanc de Blancs in the market.