Gaia and Gaja
Richard L. Elia
---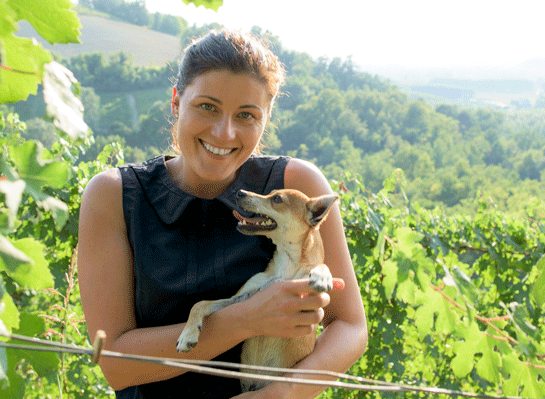 Gaia Gaja
In 2005, when we first interviewed Gaia Gaja, the daughter of Angelo Gaja — arguably Italy's best known wine producer and the one who "dragged Piedmont into modernity" in the 1960s — she was starting to immerse herself in the Gaja family wine world. She had left San Francisco where she was wine interning, and returned to Barbaresco. There she witnessed the wine talents of Guido Rivella, Gaja's winemaker since 1970, and soon she was "hooked . . . the things he could do were almost alchemical. He's a great winemaker because he has imagination and intuition . . . what all great winemakers have. He made me see exactly what I wanted to do." Gaia Gaja will be the winery's next winemaker.
We wondered how she fared under her father's wing — a father who admits to being "controlling" and who is unlikely ever to retire. Nonetheless, Gaia has experienced her rite du passage and has hardly been a forgotten child. She spends many months on the road doing tastings, expos, and spreading the Gaja gospel of "uncompromising quality," while the press fawns on her as they did her father. Little wonder: she's extremely beautiful — radiant face, engaging smile, statuesque and hospitable — one of the Roman graces. Besides, being with her is an invitation to taste any of the Gaja wines, some of which are priced as high as First Growths, and the wine press like nothing more than tasting expensive wines. Wikipedia has a generous and flattering site about her. Her photos abound in the press. At least four stories have appeared in the last few years. Gaia is getting adept at handling the press. She's no longer in awe of the attention. One doubts she can handle the press with as much irony and command as her father, who is sui generis in this category.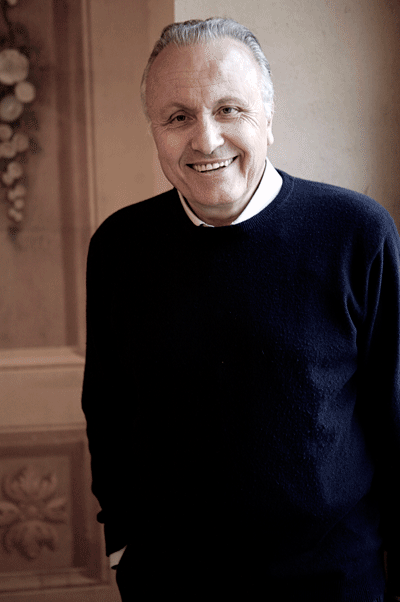 Angelo Gaja
When we interviewed her in 2005, she was glad to be home because she has always been a "citizen of Barbaresco." The Piedmont region is gorgeously idyllic, and Barbaresco is a little Eden, with about 1,000 residents, nearly all of them associated with Nebbiolo's wine world. Production there is small but exclusive and pricey — some say over pricey. As beautiful as Barbaresco is, however, it can be socially confining, to say the least. It isn't Rome, and there aren't many young people in the area, but what keeps her going is her leaving: her extensive ambassadorial travels for the winery aid her social life and make returning to Barbaresco all the more liberating. "I love and need the warmth and stability here; I'm really a person of place."
We asked about her title at the winery. She had none when she started, and eight years later, "I still have none. No one has a title at the winery, and no one has one specific role. I deal with oenology learning what Rivella and his team offer. My sister, Rosanna, who is now an integral part of the winery, does what my parents do: deal with suppliers, solve problems, make decisions about the vineyards, consult, hire, whatever needs to be done to go forward. At university, Rosanna majored in Oenology and in Psychology, which in this family is probably a very good thing," she says with a chuckle.
Regarding titles, we're still intrigued and amused by Angelo Gaja's business card. There is very little on it. In the middle appears his name in very modest font, with no title. Below and above some phone numbers and an email with a print size so small it's nearly impossible to read. Nothing else. It's an ex cathedra card, a card from Olympus, and it's pure Gaja, the wine person who only needs one name. He's the Dante of Italy. The rest of the Gajas have learned this same indifference. What matters is quality and good business, not titles. Yet, ironically, the less Gaja seeks publicity and titles, the more he gets it from hungry wine publications, which call him the King of Barbaresco, Piedmont's Great Innovator or Italy's Revolutionary. Ironically still, Gaja often treats the press with regal abruptness, and they don't seem to mind.
Gaia is trained in a similar manner. She's about the business of wine. When interviewing her, she's charming and engaging, but one wouldn't think of asking her a personal question any more than would ask it of her father. There's that regal distance again. Gaia is passionate and fluent about viticultural changes, about different pruning systems (fewer cuts for longer living vines); she's concerned about vineyard fertilization, canopy changes, green harvesting (diradamento — getting rid of green or immature grapes so as to insure lower yields and better wine). "There are constant evolutions and changes at the winery that need to be addressed and decided by the family, along with our longtime collaborators. And we do decide as a family — my father has a very strong personality, and we usually agree. However, when he senses hesitancy or conviction from us, then he becomes very present."
The intervening years showed us growth and confidence, and Gaia's acumen at PR, marketing, and tasting is impressive in the extreme. Her YouTube appearances attest to it. The closest we got to asking a personal question was to inquire if, while at the winery and under her father's "presence," she was having fun and living up to her name — it means happiness or joy in Latin. Her father told us when she was born that he loved the name and the alliteration. In typical Gaja fashion, we got an abrupt answer, "yes." Nothing more. Like father like daughter. (Ask a fool question and you get . . . ). Meanwhile, it will be interesting to see what she and the wines become when she is the winery's "presence." It was she who told us in no uncertain terms that she "dislikes mediocrity."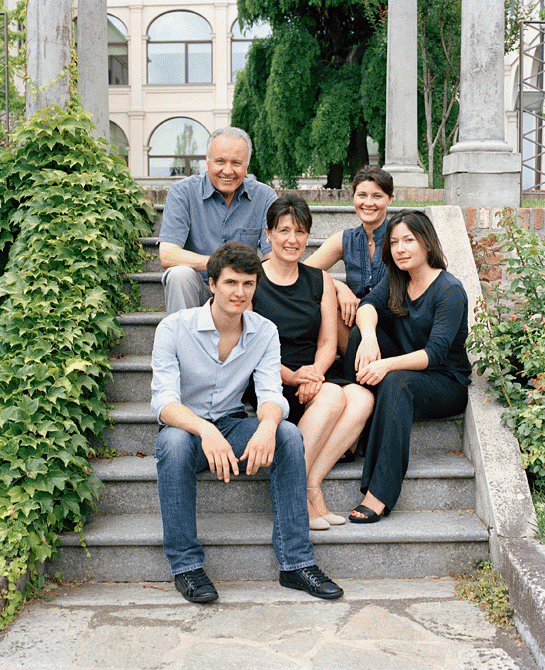 The family Gaja:
Down, from left: Giovanni, Lucia (Mr. Gaja's wife) and Rossana. Up: Mr. Gaja and Gaia)
Photo: Andrea Wyner 2012
Gaja Wine Tasting
A problem with Gaja wine is getting it, which can be discouraging. Retailers are heavily allocating what they have. Like so much of the fine wines of the world, these are also going to China — the new Japan of the 21st century — which only intensifies the difficulty. Herein are five new releases from the '07 and '08 vintages from our wine cellar, with approximate prices in today's market.
2008 Gaja CA'Marcanda, Super Tuscan, Maremma, $70+. Red blend of Cabernet Sauvignon, Merlot, Cabernet Franc, and Syrah. Spice, rich blackberry, chocolate in the bouquet. Chocolate and mocha flavors, nice underlay of plum, vanilla, spice, and oak. Nice concentration. Complex. Mild tannins. Approachable.
2007 Gaja Sperrs, Barolo, Serralunga, $250+. Sperrs means nostalgia and harkens back to great Barolo experiences, which this one is. Ruby hue. Spice and licorice and lace of anise in the aroma. Tight, firm, and austere. Big tannins. Cherry, with spice-cedar oak. Rich plum. Earthy. Complex. Still rounding.
2008 Gaja Barbaresco, $200+. Cherry, coffee, and spice in the aromas. Cherry, plum, and anise/licorice in the flavors, with underlay of rich earthiness. Approachable. Delicious finish.
2008 Gaja Sori Tildin, Barbaresco (single vineyard), $400+. Toasted oak, spice, and cherry aromas. Cedar, cherry, peppery. Rich. Beautifully textured. Big tannins. What great Nebbiolo is all about. Enormous finish. Complex, still much too young. Cellar.
2008 Gaja Sori San Lorenzo Barbaresco (single vineyard), $400+. Lush and rich aromas of cherry, coffee, currants, and spice. More of same in the flavor, with vanilla and richer cherry. Highly tannic. Too young for further description. Wait. Maybe decades!