Best of The Best Non-Vintage Champagnes
Richard L. Elia
---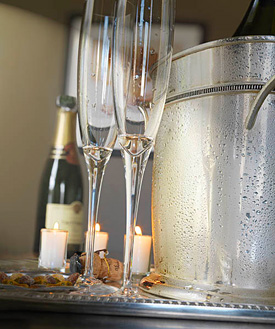 Photo © Jim Scherer • Glassware by Bottega del Vino<
We love Champagne. Only it must be good Champagne. We drink it daily. We revere it. It's the only wine that can resuscitate, remove despair, reward us for whatever it is that needs rewarding. But the Champagne must be fine. Which is to say, it must be dry (brut) — not ultra dry, nor sweet. (Several French producers are changing their blends and creating a slightly sweeter bubbly to attract younger drinkers; some things need change: classic Champagne doesn't). It must have a traditional Champagne color — tragically pale and deep, with a glad touch of gold — along with a torrent of tight, small on-going bubble activity, which is the very essence of Champagne. (When opening, Champagne must be well chilled; then open slowly, keeping the bottle at a 45 degree angle: the foam and bubbles must never be allowed to escape.) The pleasure awaits. We have, however, felt that Champagne is the most abused of wines because it's consumed at annual festivities and by party-goers who drink unthinkingly, indifferent to its pleasures and charms. For such people, there is sparkling wines. For everyone else who cares, there is Champagne.
Champagne is expensive. The economy is wretched. You can't afford to buy badly. Non-vintage Champagne is where you should be looking. Prices are good and consistency is great. The bottle you tasted last time will taste largely the same as the one this time. For French producers, non-vintage Champagne — their "house style" — pays the bills: they can't afford to be inconsistent when assembling the final blend.
At our annual blind non-vintage Champagne tasting, we found several wines you should consider. When deciding which wines to offer readers, we consider flavor and finish first and price second — there are rarely any "great buys" in Champagne anyway. We prefer Champagnes that come from any of three great regions — Reims, Épernay, and Aÿ. We love "classical Champagne" — blending of Chardonnay (elegance), Pinot Noir (structure and depth), and Pinot Meunier (richness). We generally refrain from buying Rose because it is overpriced and rarely as satisfying as classical bubbly. We want aromas that have some lees contact, meaning deep flavors and complexity awaits. We look for engaging brioche, toast-yeast notes in the aroma. The flavors must reveal body; it must be dry, creamy, and frothy. The finish — ah, the finish! — is everything. It should be delicious and toasty, deep and meditative. It must have enough body and character to act as an apéritif or as an accompaniment with dinner. These are tall orders, but the best Champagnes can deliver. (As always, we disregard numerical ratings. Of the 21 Champagnes tasted, below are the "Best." All are readily available retail. Prices may vary from region to region.)
Non-Vintage
Billecart-Salmon Brut Reserve, $50. Brut Reserve is the specialty of this Champagne house. Pale gold color. Aromas of toast, brioche and yeast. Lots of body and depth. Floral, creamy, splendidly elegant and delicate.
Bollinger Special Cuvée, $55. A perennial winner at any blind tasting. Bolly announces its aristocratic self. Lots of bubble activity. Attractive pale gold color. Soft bread-toast-yeast tones in the aroma. Soft and gentle syrupy texture with big body in the flavor. Delicious and full finish.
Charles Heidsieck Brut Reserve, $45. Engaging color of pale gold with considerable and enduring bubble action, allowing you to expect big flavors and you get them. Honeyed notes with lots of character and grip. Champagne with gusto, with a deep, and satisfying finish.
Deutz Brut Classique, $43. Classic Champagne color. Floral and toasty aromas. Rich, creamy, balanced, and toasty. We have been a fan of Deutz for decades. Unfailingly consistent, delicious, with lingering nutty and toasty notes.
Gosset Grande Reserve, $45. Good Champagne color. Full body, an eternity of bubble activity, creamy flavor, and frothy. A touch sweet but with a satisfying and sumptuous finish.
Note: The up and coming area of Champagne is Avize, but don't expect less expensive Champagne. Prices are equivalent to the three wine regions mentioned above.