The Boston Globe—
Business Section, July 7, 2005
Wine Review Magazine Matures into Vintage Read
Elisabeth Townsend, Globe Correspondent
---
Hugh Johnson says "Richard Elia has international friends and gets good people to write for him. QRW is above all fresh and original."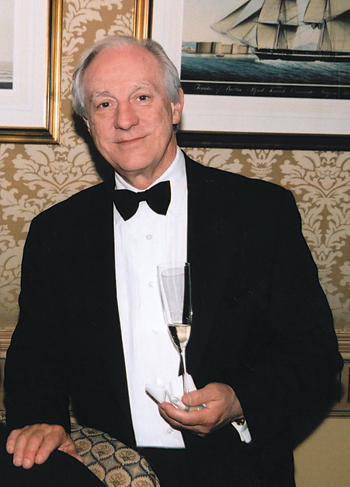 Richard L. Elia
WINCHESTER—When Richard L. Elia isn't in a Salem State College classroom teaching Victorian literature, he's writing and editing. Not about Byron, but about Beringer Vineyards or the best California cabernet.
"It started as fun," said Elia about the magazine, the Quarterly Review of Wines, he created in 1977 as a newsletter for friends and as a sideline to his work as a Salem State professor. He proposed the idea to Randy Sheahan, a friend who was at Northeastern University. It became a magazine in 1980.
QRW also was a way for Elia to write. "I've always wanted to craft a very fine essay, [but] I don't want to write novels and short stories," said Elia, who has a doctorate in Victorian literature from the University of Massachusetts.
The first wine Elia tasted was a 1961 Château Margaux which he paid only $12.99 in 1970. But he really got into wine in the late 1970s when he wrote an article about Oscar Wilde's review of George Saintsbury's 1920 book, "Notes on a Cellar-Book," reminiscences about food and wine.
"So I started [the magazine] with all of $200, and I've never lost a cent," said Elia, owner, publisher, and president, of the periodical he began in his Winchester home. Sheahan, 59, continues as editor.
Among the oldest of wine magazines, the Review usually has more than 20 features in each issue primarily about wine, but also about spirits and cigars. It's "widely known for the reviews and buying guide," writes Magazines for Libraries, the librarians' buying guide.
"In a national survey...by the Beverage Journals of America, wine importers, distributors, and retailers rated QRW one of the top three wine magazines."
"I wanted to write a kind of a literary, intelligent wine magazine," said Elia, 64, about his vision for the publication. He wanted to create "something very different from a newspaper" or "from a magazine that's for the industry."
Elia also wanted it to be eclectic, so he gave his writers leeway "to write about whatever they wanted to do in the wine world." But "we won't write about a wine we don't like.... It's appreciative writing," Elia said. Six of his writers also have the British Master of Wine designation, an industry credential held by only 246 people worldwide.
"Richard Elia has international friends and gets extremely good people to write for him," said Hugh Johnson, a British wine writer known for both his wine encyclopedias and his quick-reference "Pocket Wine Book." Johnson met Elia many years ago at a wine tasting. He described QRW as "above all fresh, and original, and it's good stuff most of the time."
On the business side, Elia states, "We're completely without debt, never missed a payroll, never missed taxes." His business know-how developed during his childhood in Dor-chester, where his Albanian immigrant father owned the Boston City Spa, a "restaurant cafeteria" near Boston City Hospital.
The family sold the restaurant in 1983. "My father made sure that we escaped from that business," said Elia, "Oh no, there was never any doubt! He made sure education was a big thing."
Still, Elia worked at the restaurant. "You worked there in grade school, high school, and during the summers in college."
QRW expects about $1 million in revenue this year and has a circulation of 175,000. Elia's goal is 200,000. There are about 52,000 paid subscriptions, and free copies, hotel copies, over-the-counter sales, and reserve copies account for the remainder. Sixty percent of the magazine's readers have a household income of $150,000 or more. Some of those readers may have discovered it in hotels such as the Ritz-Carlton and Four Seasons Hotels and Resorts, or on cruise ships.
One of Elia's goals is to add another big hotel chain to increase his circulation. He explains his strategy for working with hotels. "You [the hotel] take the magazine, we'll supply it, you have some wine and food event, we'll cover it, and we'll give you a discount in advertising."
QRW also targets major wine and food events, where the publication is distributed free, such as the 14-year-old Boston Wine Expo that Elia cofounded, as well as the areas in the United States with the biggest populations, and specific groups such as women and minorities.
The most popular feature in all wine publications is the ratings of wines. Both the Wine Spectator and The Wine Advocate use the now ubiquitous 100-point scale. Elia uses a four- and five-star rating system, which he admits may not be the best marketing tool. But because of that, "I think we probably have an awful lot of respect from the wine industry," said Elia.
Johnson, who also likes a five-star scale, reflects the feelings of the winemakers when he wonders how one can discern the difference between scores of 91 and 92, for example.
When it comes to rating wines, the dividing line among wine critics is whether they do blind tastings. The QRW summer issue features the "21st Annual California Best of the Best," the results of a blind tasting of more than 800 wines from all the major varietals, or grape varieties. In a blind tasting, the taster knows the varietal being tasted but not the vineyard. According to the magazine, these are the best wines consumers can buy in retail stores or in restaurants.
For 26 years, Elia has used the magazine's resources, his wine expertise, and his own wines for charitable and cultural causes, such as the Winchester Public Library, the Boston Public Library, and the Boston Symphony. During the 16 years he worked at WGBH public television's wine auctions, he became the chairman and created the rare and fine wine auction, among others. The magazine underwrites the auction, and the exposure helps develop the New England market for subscriptions.
Elia has a preference for the "old-fashioned, wonderful old, lean, stylish type of wine" such as Château Latour or Château Lafite Rothschild—choices not dissimilar from those of his favorite writers, Joseph Conrad and Henry James. In the evening with dinner, he said he especially enjoys a glass of Champagne, perhaps Clicquot, Charles Heidsieck, or Taittinger, from his cellar.
"I have maybe 5,000 bottles," said Elia, his voice quieting almost to a whisper.
His cellar? "I don't have anything fancy. But I intend to drink my wine. I intend to share my wine, hence all these charitable events that I do."
Elia continued, "I want to be like Andre Simon, who had the greatest wine cellar in all of England in the '30s and in the early '40s. He had thousands of bottles. And when he died...there were only six cases of wine left.... That's the way I want to go.
© Copyright 2005 Globe Newspaper Company
---
Related item: