Wining and Dining at WGBH Studios
Katie Katzman
---
To taste the creations of Boston's top chefs on one night would lead to a hefty dinner bill and undoubtedly a 10 pound weight gain to contend with in the morning.
But at WGBH's Opening Gala Reception for the Food and Wine Festival, 20 of Boston's best were showing off their finest work at WGBH Studios. Each chef was paired with a winery and the food was to be perfectly paired with the wine or port.
The studio was barely recognizable as clothed tables and wine casks dotted the food emporium. Throngs of "foodies" went from booth to booth tasting the offerings, drinking and chatting with chefs usually behind the scenes. The clink of glasses, the aroma of sirloin, blue fish, gnocchi and decadent chocolate cakes called out from different corners of the studios.
Jay Murray of Grill 23 was preparing tacos paired perfectly with Twomey Merlot, Jasper White talked to fans as he passed out the most abundant "taste" of the evening mdash; two clams stuffed with bread crumbs and chorizo, Judy Mattera pleased passersby with a show stopping take on baklava that left us wanting more. Mattera's dish paired perfectly with a Sandeman Port.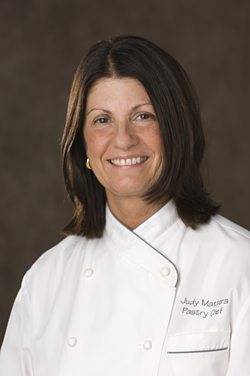 Owner and pastry chef at Sweet Solutions, Judy Mattera
Perhaps the most talked about dish of the night was a red pepper soup prepared by Susan Regis of Upstairs on the Square. WGBH's Barry Nelson led us to the soup and told us it would "change our lives."
The sweet but spicy soup opened our eyes to what a food, well paired with drink will do. The soup was paired with a Luigi Bosca Gala 1 Malbec Blend 2009, Luigi Bosca Gala 2 Cabernet Blend 2009. The wine set the flavors of the soup off, creating something very different.
The highlight of the night was a ten minute tribute to Julia Child to commemorate her 100th birthday a few weeks earlier. The chefs at the gala along with some such as Barbara Lynch, not in attendance, wished Julia a happy birthday and recounted working with her.
Prior to the tribute, Nelson has told us a story about how a small sink was still in the old studios on Western Avenue; the studio where Julia Child became famous. When they moved to their new location on Guest Street Nelson said the old-timers who remembered working with her, raised a glass to her working sink before leaving.
In the middle of the wine, the rich food and the presence of Boston and the world's best chefs, it was hard not to realize  we were standing in a studio steeped in history. WGBH brought us Julia Child, who in turn brought up millions of chefs worldwide, many becoming the television stars now gracing the Food Network and Food TV. But somehow despite how far she went, her soul is still part of WGBH and in Boston's culinary scene.