Non-Vintage — The House Style
---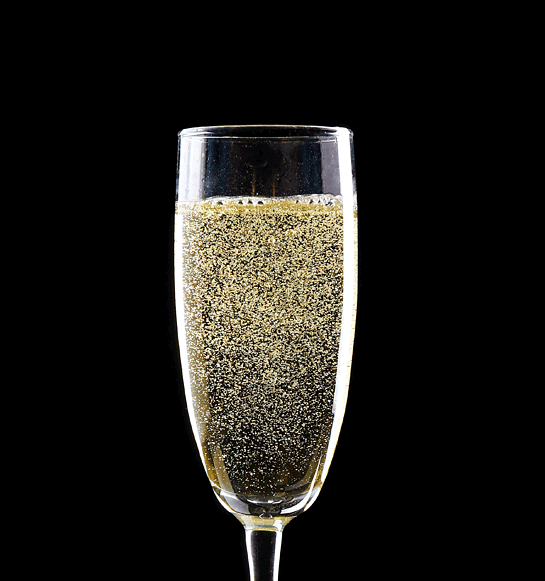 Why Non-Vintage: it's what sensible mortals drink. It's the "house" wine of the Champagne house, and it has to be consistent. Vintage wine is very expensive, very good, and can be inconsistent, requiring longer aging.
Speaking of aging, don't age Champagne for too long. You'll find that you will have aged far better than the bubbly. Non Vintage about 5 yrs
12 Tips
Smell your glass. Be sure glasses are free from the smell of detergent, which inhibits the bubbles, hence the flavor. Wine will be flat. If it smells of detergent wash it out in cold water. It gets rid of detergent faster and keeps your glass cool, which Champagne loves.
Speaking of cool, serve Champagne cool not ice cold — ice cold restrains the bubbles and makes the wine dumb.
Glasses: you want a flute to retain the bubbles and to contain the wine because bubbles give flavor to wine.
Don't swirl your Champagne; the CO2 does it for you, and swirling aids the escape of the bubbles.
Use the stem: Champagne needs to be cool and doesn't need warmth of your hands.
Champagne is often an abused wine. People drink it standing around partying. Having a big party? Serve Prosecco or an inexpensive sparkling wine; having a serious dinner party or a tasting make sure guests are sitting down, respecting and experiencing the Champagne.
While sitting, examine the color. It's part of the attraction. Don't get precious about it, but appreciate the seduction. French Champagne has a pale gold, yellowish hue; color often reveals quality and depth.
The color and the aroma need to be forthcoming and invite you to the wine. The aromas are not easily evident in Champagne — usually brioche/bread-dough/yeast.
You don't get the full flavor of Champagne until you start drinking: the aromas and flavors emerge when nose and back of the palate come together. Finish is everything! Long, lingering, mouthwatering.
Don't top off Champagne (or any wine): fine wine is evolving all the time in the glass; appreciate what the first glass offers, then go to your refill.
Open and serve a bottle using the punt (the well in the bottle at the bottom). Champagne uses a heavy bottle, which when wet gets slippery. The punt gives you a firmer hold.
Open at 45-degree angle and never let the bubbles and foam escape.