30th Annual
Best of The Best Non-Vintage
Champagne Tasting
QRW Tasting Team
---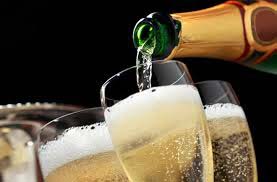 "Give me wine," says Emerson, "to wash me clean of the weather-stains of cares," and nothing—absolutely nothing— washes away the existential quotidian of our ennui driven cares like Non-Vintage Champagne. That's right! Non-Vintage, the very soul of every Champagne house. Vintage is fine, sure, but costly and, for us, not always worth the money. But, the Non-Vintage must be good. It must bear more than a small share of "reserve wine." It must have texture with finesse and elegance of finish produced from Pinot Noir and Chardonnay worthy of the names. Serious French Pinot Noir and Chardonnay obliterate all memory of the global plonk which occupy retail shelves. And don't be put off by the price of Champagne. The press likes to write about price hikes, but prices haven't risen dramatically. Competition is such that retailers can't be gallant with your money, even during the holiday season. Champagne houses initially have illusions of grandeur when it comes to pricing, but the reality is that their wines rarely sell for suggested price offerings.
As always we do "blind" tasting from classical regions—Reims, Epernay, AY—and to Champagnes that are, for the most part, classically produced—a near equal blend of Pinot Noir and Chardonnay, with some ever-reliable Pinot Meunier added for fruit and balance. Nonetheless, two Blanc de Blancs (all Chardonnay) by Delamotte and Henriot made the "Best of The Best" list. In tastings, finish is everything (smooth, elegant, long) as is expected richness of flavors (pear, brioche, creaminess, weight, with reserve wine). There are lots of good Non-Vintages; in fact, and we have rarely met a Champagne we couldn't find something to admire. This year we tasted 19 Champagnes that are "readily available,"—which are the operative words for all our tastings. As for grandes marques—an obsolete Champagne term alluding to approximately two dozen big brand houses—we've grown slightly weary of some Non-Vintages. Bollinger ($65), Clicquot ($60), Pol Roger ($45) are good but lacking passion and imagination and have been trading off their names of late. Other Champagnes are adding more reserve wines, and consequently becoming more competitive, producing a better product, often at better prices.
The Tasting
Billecart-Salmon Brut Reserve (Ay), $55. Floral and fruit aroma. Strength and character throughout. Soft spice. Straw-pale gold color. Ripe, with pear flavor, and long and lively finish. Consistent flavors, consistent winner. BEST OF SHOW
Delamotte Brut Blanc de Blancs (le Mesnil-sur-Ogar/Cotes de Blancs), $55. Sister wine to Champagne Salon. First time making our Best of Best list. Elegant, nicely focused, hint of sweetness with earthy and, attractive resolution.
Henriot Blanc de Blancs (Reims), $50. Deep yellow gold hue; lively bubbles activity. Creamy. Firm. Pear tones. Aristocratic finish. Also, one of the best Champagne buys in the market place.
Nicholas Feuillatte Brut Reserve (Chouilly), $37. Attractive yellow-bronze hue, rich, frothy, balanced, steely, tart, mouthwatering, with an authoritative finish. Also the "Best of Buy" of this tasting.
Piper-Heidsieck Cuvee Brut (Reims), $50. Big Pinot Noirs flavors, offering lots of structure. Nice pear and apple. Creamy. Stylish. Finish with finesse. Best Piper-Heidsieck we've tasted in a long time.
Perrier-Jouet (Reims), $52. Attractive gold hue. Pear, creamy texture, elegant and aristocratic. Never disappoints.
(Note: prices may vary in the U.S. from region to region.)