All Things Grape and Small
Randy Sheahan
---
What's wrong with France? When Cotes du Rhone producers sought recently to promote their wines using the slogan "Au gout de la vie" ("A taste for life"), the government said "Non," citing a 1991 French law which makes it illegal for advertisers to link alcohol drinking with happiness. Incroyable!
---
Last December, thieves swiped $300,000-worth of rare wines — including several Domaine de la Romanée-Conti items — from Napa's luxe French Laundry restaurant. But the wines didn't stay stolen long. They were recovered a month later from a private cellar in North Carolina. Though just who took them remains unclear. Stay tuned.
---
The U.S. remains the world's top wine-consuming country, having downed 339.6 million cases of vino in 2014. However, Italy drinks the most wine per capita, 48.1 liters, followed by France, Switzerland, Portugal and Austria.
---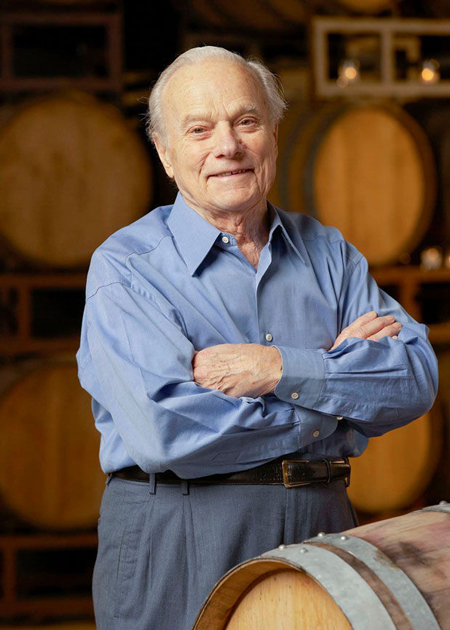 Congratulations to Charles Krug Winery patriarch, Peter Mondavi, Sr.,
who turned 100 on November 8, 2014, and still visits his Napa Valley office each day.
---
Champagne consumption is booming. A whopping 308 million bottles of the French bubbly — with a sales value of 4.5 billion Euros (around $5.1 billion) — were sold worldwide in 2014.
---
The Ivy League has established a viticultural beachhead on California's Central Coast. Indeed, according to Reuters, Harvard is now one of the biggest grape growers in Paso Robles and Santa Barbara, having acquired 10,000 acres of vines through a holding company owned by the university's $36 billion endowment fund. Go, Crimson!
---
And speaking of Harvard, a recent study by their famed medical school found that middle-aged men who drink up to seven glasses of wine a week are 20% less likely to develop heart failure than teetotalers. For details of the study, visit the January 20, 2015 online edition of European Heart Journal.
---
Silicon Valley Bank's annual "State of the Wine Industry" report predicts that sales of premium California wine ($20 and up per bottle) will grow by 14 to 18 percent in 2015. Yes, folks, the recession is definitely over.
---
And finally, here's one from the "Gotcha" file. Last March, the New York Post reported on a new invention, "Miracle Machine," that supposedly turns water into premium, ready-to-drink wine. The device, a specially tooled ceramic bottle, "accelerates the winemaking process," said the Post," by [using packets] of ingredients to produce a style of wine you desire in just three days. All you need to do is add water and follow the fermentation process on a free [phone] app." And during the process, the Post went on to say, "A digital refractometer measures the sugar content of the liquid . . . , [while] a custom-designed ceramic air diffuser pumps filtered air under a regulated micro-oxygenated environment, aerating the wine and thus softening the tannins. Meanwhile, an ultrasonic transducer, positioned directly under the chamber, . . . [speeds up] the flavor development of the wine." But guess what? The whole business was really a hoax (you don't say?!) created by a PR firm to promote "Wine to Water," an international aid organization that provides clean water to needy people around the world. As for the Post, they've moved on to more-serious news stories, such as the recently featured "Lindsay Lohan parties in Paris days after hospitalization" (January 26, 2015).