All Things Grape and Small
Randy Sheahan
---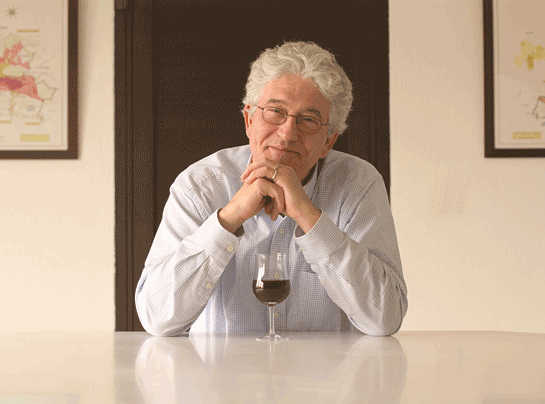 Jacques Lardière, Louis Jadot Winemaker
Jacques Lardière is not one to sit on his hands. The longtime Louis Jadot winemaker, who retired last April, is going back to work for his former employer. But this time he won't be stationed in Burgundy. He'll be halfway across the globe in Oregon, where he'll take charge of Jadot's newest acquisition, Resonance Vineyard, a 20-acre Pinot Noir property in Willamette Valley.
---
Napa Vallery's Araujo Estate was sold in July to France's Artemis Group, owner of the Bordeaux First Growth Chateau Latour. Under the deal, Artemis gets Araujo's winery, the current inventory, the Araujo brand name, and 162 Calistoga acres, among which is the famed 38-acre Eisele Vineyard, home to one of California's great Cabernet Sauvignons.
---
Champagne is brain food, say researchers at England's University of Reading. The good scientists fed lab rats bubbly over a six-week period and discovered, according to a press release, "that the phenolic compounds . . . in champagne . . . improve spatial memory . . . by modulating signals in the hippocampus and cortex, which control memory and learning." The researchers also found that said "compounds . . . favorably alter a number of proteins linked to the effective storage of memories in the brain . . . and therefore may help prevent the cognitive losses that occur during . . . brain ageing." If that's the case, then I—who have consumed oceans of Champagne—should be another Isaac Newton. I wonder what went wrong.
---
Domaine Clarence Dillon, owner of the great Bordeaux chateaux Haut Brion and La Mission-Haut Brion, purchased the Saint Emilion Grand Cru Classé Chateau L'Arrosée in May. The L'Arrosée property neighbors another recent Dillon purchase, the Saint Emilion Grand Cru Tertre Daugay, now called Chateau Quintus..
---
Marcassin Vineyard, Helen Turley's famed property on California's Sonoma Coast, will produce none of its marquee Pinot Noirs in 2008. The reason, says Turley's husband and business partner, John Wetlaufer, is that due to continuous wild fires that summer in nearby Anderson Valley, the '08 Marcassin Pinots, though "deeply colored, rich and round," display "atypical and exogenous smokiness." I hate when that happens.
---
In perhaps a sign of the times, wine guru Michel Rolland has sold his key Bordeaux properties—chateaux Bon Pasteur in Pomerol, Rolland-Maillet in Saint Emilion and Bertineau Saint-Vivant in Lalande de Pomerol—to Hong Kong's Goldin Group, a real estate investment company.
---
Napa Valley's Clos Pegase Winery and Vineyards has been sold to Vintage Wine Estates, owner of California's Girard, Cosentino and Catlidge & Browne wineries. Under the deal, Vintage Wine gets Pegase's 450-acre Calistoga estate, its winery and brand rights, and an exclusive lease on Pegase's 365-acre Carneros vineyard, which includes the famed Mitsuko parcel. What will happen to Pegase's renowned art collection, amassed over decades by former owner, Jacob Shrem, is unclear.
---
Ravaged by terrible spring and summer weather, Bordeaux is predicting that 2013 will be its smallest vintage since 1991. Worse yet, the quality looks to be so-so at best.
---
The U.S. continues to be the world's biggest wine market. In 2012, Americans downed more wine—345 million cases—than any other country, while the number of us drinking wine reached 100 million for the first time
---
New Zealand winemakers are calling their 2013 vintage one of the best ever. Not only is quality outstanding, but volume is at record levels.
---
Many New York investors are now using fine wine to secure short-term loans, according to a recent report in the Financial Times. Indeed, one Manahattan lender, "borro," claims to have $4 million of wine-backed loans on the books, and says one bottle of Chateau d'Yquem alone (they didn't name the vintage) secured a $48,000 loan. And speaking of Yquem, thieves broke into the iconic Sauternes' cellars last June and made off with 380 half-bottles of 2010 vintage. Do you suppose they were going to use the haul to secure short-term loans?
---
Add "Wine Wizard" to the list of whacky wine gadgets. Produced by ClearPath Resources Corporation and still in its trial stages, this particular gizmo is said to "age" young wines in minutes by using electro-magnetic waves to lower acidity. What happened to the good old days, when the only "gadget" required to enjoy wine was a glass?
---
In September, Champagne Dom Perignon unveiled their new collaboration with artist Jeff Koons: a bottle of 2003 DP Rosé enclosed in a pink plastic "Balloon Venus." According to a press release, the unusual packaging (which looks more like a balloon poodle) was "inspired by the Venus of Willendorf, a tiny Paleolithic figure . . . dated to around 23,000 BC," and represents "a modern-day goddess of love who embraces her beholder in reflective curves." And the asking pricing for this limited-edition erotic bauble? Around $20,000. Now what was it P.T. Barnum said?