The Wines of Campania:
Red, White and Pure Gold

Romancing the Vines and
What's in a Name?

Tom Maresca
---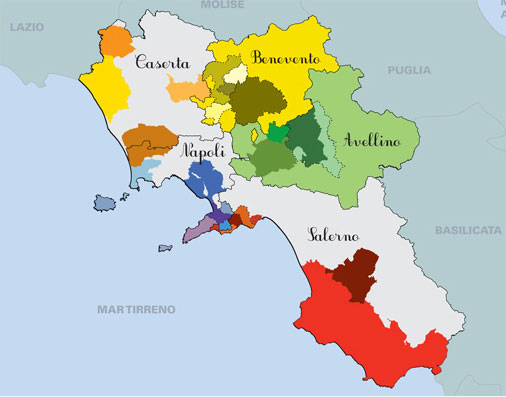 Campania adds to the excitement generated by this dynamic winemaking scene two other, unique elements: a treasury of ancient grape varieties, many just clinging to life and waiting for rediscovery, and a proliferation of surviving pre-phylloxera vines, scattered all through the volcanic, sand-laced soils of the province.
Manuela Piancastelli and Peppe Mancini of Terre del Principe provide a graphic example of the first element. They searched for the vines and wines that Peppe remembered from his boyhood in the Caserta province of Campania, and they succeeded in saving and propagating – from a small number of extremely old vines – the elegant red grapes Casavecchia and Pallagrello nero and the powerful white Pallagrello bianco. All three produce wines that have already made their mark in Italy and will, as the numbers of their cultivators grow, undoubtedly soon be well-known on the international wine market.
The whole Campi Flegrei denomination can stand as example of the second element. This geothermically active area (it has fields of hot sulfur springs) was scarcely touched by phylloxera. The louse that causes that blight cannot survive in its soils, but vines do very nicely, and almost all growers in the region tend vines that stand on their own roots, many of them quite old: upwards of 75 years is not uncommon. The small (9.5 ha) La Sibilla winery, for instance, works with vines averaging between 30 and 85 years old, all on their own roots, and replanted as necessary by massal selection – so always pre-phylloxera stock if not necessarily individual pre-phylloxera plants. The value of this lies in the fact that a vine on its own roots produces fruit, and therefore wine, with much greater varietal intensity and purity than a vine that has been grafted onto American rootstock.
Another dramatic example, in a totally different zone, is the Taurasi riserva of Raffaele Guastaferro, which is vinified from two and a half hectares of 175- to 200-year-old Aglianico vines high in the hills of Avellino province. I tasted a vertical sampling of Guastaferro Taurasi Riservas back to 2004, when Raffaele took over the winemaking from his father, and they were among the most intense, concentrated, and elegant Taurasis it has ever been my pleasure to enjoy. These wines in their character and quality recalled and rivaled the finest Barolos, with the added dimension of a natural delicacy that Nebbiolo wines don't often achieve.
What's in a Name?
The greatest difficulties wine lovers encounter in coming to know the wines of Campania are almost certainly their sheer number and the consequent flood of names that must be dealt with. First there are the various provinces of Campania:
Avellino (and its important subzone, Irpinia),
Benevento (and its subzone Sannio),
Caserta (its subzones are Falerno del Massico and Terre del Volturno),
Napoli (subzone Campi Flegrei), and
Salerno (subzones Costa Amalfitana and Cilento)
All these embrace a large number of different grape varieties and consequently numerous denominations.
That's not as overwhelming as it may seem at first sight. The chief grape varieties provide the key to understanding Campania wine. The major white grapes to know are Fiano, Greco, and Falanghina, with Pallagrello bianco growing fast in volume and importance. The major red grapes are Aglianico and Piedirosso, with Pallagrello rosso and Casavecchia beginning to be more significant.
For my palate, the most intriguing examples of the white wines are almost always monovarietal, even though many growers try their hand at blends. Despite Fiano and Greco's wide cultivation throughout Campania, the general opinion holds that the best examples of both come from Irpinia, where each has won a DOCG designation: Fiano di Avellino and Greco di Tufo, each from the richly mineral-inflected soils around their named towns. Falanghina also is very widely grown: It's a more forgiving grape than either Fiano or Greco and makes a friendlier, lighter-bodied wine, so good examples come from all over Campania. For me the best are from Caserta, where it makes the DOC Falerno Bianco, and from Campi Flegrei, where the intense minerality of the soils of that geothermically active region lend its Falanghina a distinctive tang.
Taurasi, a 100% Aglianico wine grown high on the slopes of the Irpinian hills – up to 600 meters in some cases – stands as the peak (yes, pun intended) of Campanian red wine production, but other zones are improving fast. The Aglianico of Benevento, for instance, recently won its own DOCG designation. And Piedirosso, traditionally grown throughout Campania and traditionally blended in varying proportions with Aglianico, now appears frequently as a monovarietal wine – some of them very impressive. Nevertheless, Piedirosso's most important role still is in blends, such as the often-lovely Falerno rosso del Massico, or in Lacryma Christi rosso, where it dominates the blend, or in the reds of the Costa Amalfitana, where it partners with Aglianico and other very localized red varieties. At the moment, Pallagrello rosso and Casavecchia come only from a small subzone of Caserta (Terre del Volturno), where they usually appear as monovarietal (or nearly so) wines.
That may seem like a lot to learn, but there is great pleasure to be had in the process: Aglianico, Fiano, and Greco stand clearly among the world's noblest varieties, and the newly rediscovered Casavecchia, Pallagrello nero, and Pallagrello bianco may soon join them. These wines and their kin are getting better all the time. They all share the great features that make Campanian wine so special: volcanic terroirs that give intriguing, distinctive minerality; thrilling acidity, marked even for Italy; highly varied microclimates that lend special character to the grapes grown there; and, uniquely, ancient vines on their own roots, many pre-phylloxera – a package of qualities unmatched anywhere else in the world.
Part 1: Introduction and A Little Bit of History
Part 3: A Selection of Campania's Pure-Gold Producers