WGBH Chef's Gala
A Family Affair For Donelan Wines
Katie Curley-Katzman
---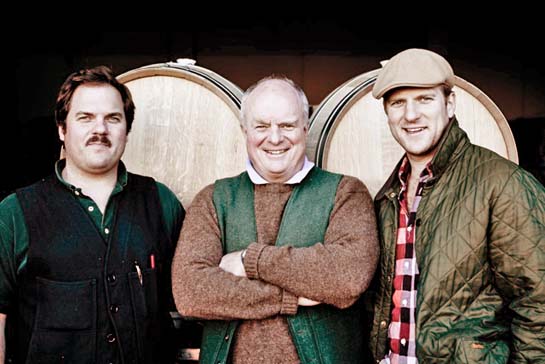 Joe Donelan and sons Trip and Cushing
One of the stars of the WGBH Food & Wine Festival Chef's Gala was Joe Donelan and his son Cushing on Donelan Family Wines.
The two worked the crowd around their station, pouring generous glassfuls of their award-winning Pinot Noir and Syrah, surveying the crowd and telling their own story.
It's an endearing one—the father works side-by-side with his two sons Tripp and Cushing running the day-to-day operations at their Santa Rosa winery.
Crowd favorite Pinot Noir "Two Brothers" was named for Joe's own two sons. His award-winning Syrah "Cuvee Christine" is in honor of his wife.
It's events like the Chef's Gala that give the serious foodie and wine drinker access to these little-known gems.
For Donelan, it's just as important the customer leaves having learned something about wine or wine tasting.
The family's motto is "Wine is a journey, not a destination."
Joe's own journey in the 1980s, was inspired by a sommelier at Toppers Restaurant on Nantucket.
It was on Nantucket, he realized his passion for wine and went from discerning wine drinker to master oenophile.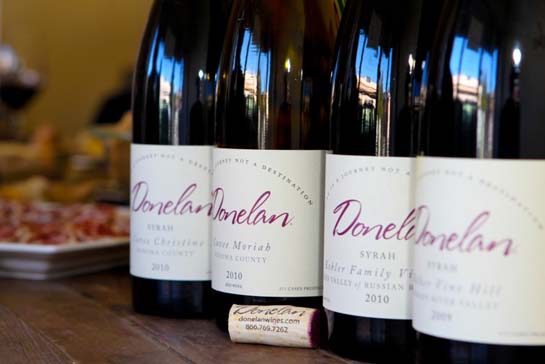 Selling around 80-percent of his wines today, through direct mailings, tastings like the WGBH Chef's Gala teach the Donelan family just as much about the people enjoying their wines.
At the food festival, Donelan was paired with a chef offering braised duck wrapped in puff pastry with a cherry reduction.
As Donelan poured his wines, he directed the crowd to the food station in order to experience the full pairing; ever grateful to what good food and wine can do together.
In all, the Chef's Gala featured 25 unique food stations showcasing the cuisine of Boston's best chefs paired perfectly with selected wines from wineries from Napa to New Zealand.
From tuna tartar to braised short rib, bedazzled diners snaked around the studio stopping at each station.
The major fundraiser for the venerable public broadcast station, is also an education in food and wine and a chance to go on a journey, if just for a night, of superb wine and food from Boston and beyond.