Chocolates and Wine?

The answer is Port
Richard L. Elia
---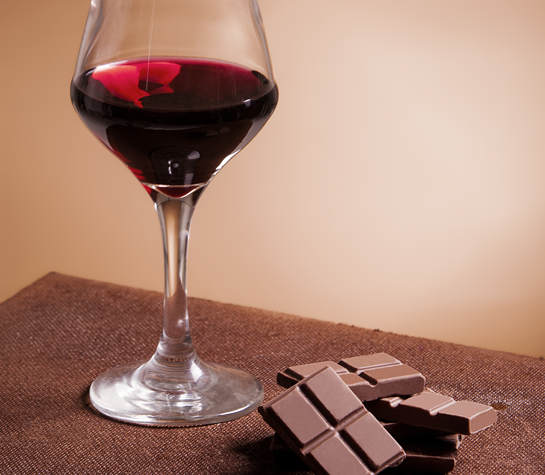 It's an old but persistent question: does chocolate and wine pair well? The question returns like the seasons, especially around Valentine's. The answer is yes. Almost every wine aficionado, however, while agreeing, has an opinion about this marriage. Purists prefer to nix the marriage, asking why ruin a good wine with chocolate? Others claim chocolate overpowers its partner with excess acid. And still others wax un-lyrically with conventional responses, like decadent, to-die-for, sensual, and whatever works. So, should chocolate and wine be paired? The answer is of course, if the wine is Port.
Drinking Port after dinner is nearly a forgotten tradition. It survives in France and in the best U.S. restaurants; otherwise, restaurants tend to ignore it. The British aristocracy perfected it in the 18th century: the Treaty of Methuen (1703) allowed England a tax advantage when importing Port wine from Portugal. The rich and well-to-do soon embraced Port, and a tradition of finishing a meal with it was launched.
It's difficult to know when having Port with chocolate began. It's an extension of hot chocolate. In the 18th century, the long arm of British colonialism in the West Indies and elsewhere enabled them to import chocolate, and hot chocolate was the beverage of choice even in England's many coffee houses. Similarly in America, the West Indies supplied the colonists with chocolate, and Boston became a chocolate center when Dr. James Baker created Baker's Chocolate.
Chocolate as a candy is a 19th century European expression emanating from England, France, Switzerland, and Austria. It's about this time that Port and pieces of chocolate became a traditional part of the dining experience. It's a classic pairing that's difficult to better, although not a few sommeliers would say that other sweet wines, like Moscato, Madeira, sweet PX Sherry (Pedro Ximenez), and Banyuls (southern France) pair wonderfully. No argument, but Port is more readily available, and it's arguably a deeper and richer experience.
It's one of the ironies of wine drinking: we start our wine lives drinking sweet, approachable wine, like Germany's Liebfraumilch, Riesling, or Spatlese. Gradually we move to drier wines, usually something white, like Chardonnay. Then we graduate to dry reds, where Merlot, Cabernet Sauvignon (Bordeaux), and Pinot Noir (Burgundy) engage our palates. Somewhere along the way we're introduced to Port, and once again we return to sweet wine, wondering why we didn't experience it earlier.
Unfortunately, none of the dry red wines you love will work with chocolate because dry and sweet fight each other. When you pair Port and chocolate—milk, dark, or bittersweet—you're searching for harmony not conflict. Sweet with sweet is heaven's way because it allows you to "taste" and to experience an expression of unity. And when we say chocolate, it's not just candy: it can be pudding or pudding with red fruit, or any rich chocolate dessert.
The question now is what Port? We urge you to forget less expensive Ports like Ruby Port or Late Bottled Vintage Port (both about $15-$20) and opt instead for a sumptuously sweet 20-YearTawny Port—our preference is Taylor-Fladgate, but any quality shipper will do, and the wine will last for weeks after opening. Tawny Port is one of the best wine values available. It costs more ($40 to $45) but the experience with chocolate is incalculable. Tawny Port comes in 10-20-30 and 40 years, but 20 is the optimum year, having a richer tawny color, deeper sweetness, engaging nuttiness, with more discernible weight. Tawny is a blend of various Port vintages: 20 years doesn't mean 20 per se; rather, it's a compilation of the various vintage years in barrel. Further, 20-YearTawny Port has softer, smoother tannins, which enhances the sugar in chocolate. And if your chocolate happens to have nuts or almonds in it, the nuttiness in Tawny Port is a splendid extra.
Champagne and chocolate? We love the bubbly, but pairing it with chocolate is challenging, even if you're drinking sweet cremant or demi-sec. Respect the bubbly, forget the chocolate. Enjoy the Champagne: it's as good as you're going to feel all day.