Smith-Madrone: Wines Of The Gods

Katie Curley-Katzman
---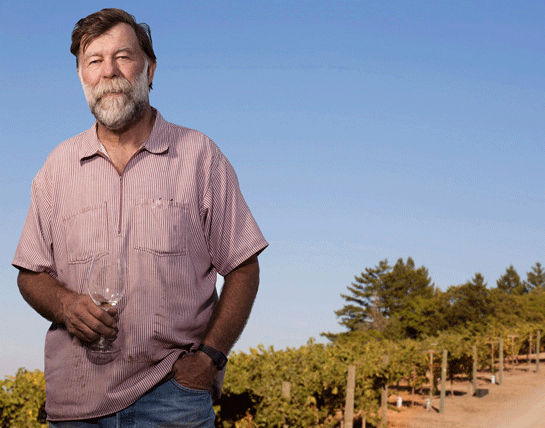 Stuart Smith
The Romans used to say "Bacchus amat colles," Latin for, Bacchus loves the hills. The god of the grape harvest was said to pour special blessings on hillside grapes. At Smith-Madrone Vineyards and Winery on Spring Mountain, owner Stuart Smith believes it to be true. "The very best grapes come from the mountains," he says.
It seems Dionysus is looking down on the 200 acre ranch at 1,300 to 2,000 feet of elevation. First planted in the early 1880s, the land was abandoned due to the Phylloxera epidemic. When Smith found the land in the early 1970s, huge Douglas Fir trees, some 30 inches in diameter, were growing on the property — a sure sign of good soil. With almost all four exposures, he planted Pinot Noir, Cabernet Sauvignon, Riesling and Chardonnay. The Pinot Noir was grown for more than a decade before grafting it over to Chardonnay. Smith now runs the winery with his brother and winemaker Charles Smith.
The wines of Smith-Madrone are decidedly reserved, elegant and as Smith says, the type of woman he would want to take on a date. "I'd rather be involved with Audrey Hepburn or Sophia Loren than Pamela Anderson," Smith said. The style is more reminiscent of great Bordeaux-blends than that of New World wines. "We believe that balanced elegance, restraint, sophistication, these are all difficult words to describe and define but we think they are important words in great quality wines," Smith said. "We put a bit of California sunshine stamp on that concept but we believe that after making wine for 7,000 years, the French have honed a style of wine and we believe in it."
Smith admits there is a large market for what has become the "California style" and is careful not to denigrate what other winemakers are doing. "What's fun about wine is all the different styles."
Crafting such elegance doesn't come without considerable work—work Smith says, is never done. "If it rains, you're up in the middle of the night making sure you're not eroding…you're concerned about wildfires, deer…if I could sell rocks by the ton, we would be wealthy people," he says. "You have to be of a certain type to be in the hills; nothing comes easy. Just getting stuff up the mountain is a chore. It's a pain in the ass, but we do it because we love it."
In Smith-Madrone's more than 40 years, the industry has been turned on its head more than once. From viticulture and winemaking practices to bottling to marketing, Smith has witnessed the growth of Napa, and California as a whole, as a wine destination. The winery has also changed and evolved along with the industry.
"What hasn't changed is the search and desire for the very best wines and the constant change of trying new things," Smith said, noting they are experimenting with new clones and root stocks. "There have been a lot of changes but, fundamentally, the process is the same and you try to do as little as possible to the grapes. The more you have to do, the more that's reflective of the quality of the grapes."
Blood, sweat and tears have flavored the terroir of Smith-Madrone, creating an experience in every bottle. "We think it's our job as winemakers to get the vintage into the glass. We really celebrate the diversity and uniqueness." All wines are made entirely from the winery's dry-farmed vineyards, producing around 4,000 cases a year.
Above all, it's the pleasure of wine that Smith hopes they are able to relay in each glass. "Wines have to be intellectually interesting and hedonistic. It must first give pleasure, then complexity.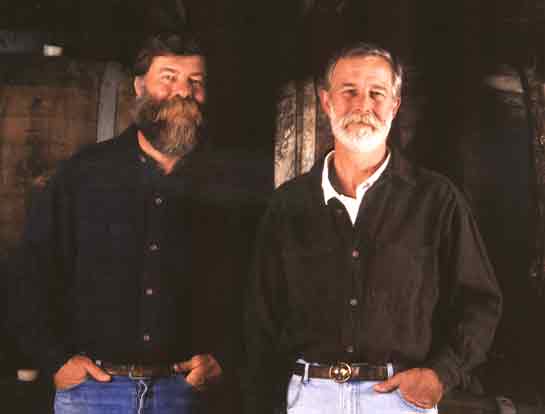 Stuart and Charles Smith
Tasting Notes
2011 Smith-Madrone Cabernet Sauvignon, $48. This one had me hooked right away. Beautiful aroma of humidor and mocha. On the palate the wine is silken with elegant finish. Flavors of blackberry and cocoa, beautiful balance.
2012 Smith-Madrone Chardonnay, $32. Floral bouquet, lychee, lilac and lime. On the palate, bright, crispy with minerality, citrus peel notes. Every sip taught me something new, pushed me to reach further. This is truly spectacular.
2013 Smith-Madrone Riesling, $27. A Riesling to win over the toughest critics. Apples and pear, honeysuckle and jasmine with chalky minerality and vegetal finish. Just beautiful.