Mireille Guiliano's Ode to an Oyster
The 'ambassador to the art of living'
introduces us to another personal affair.
Richard Elia
---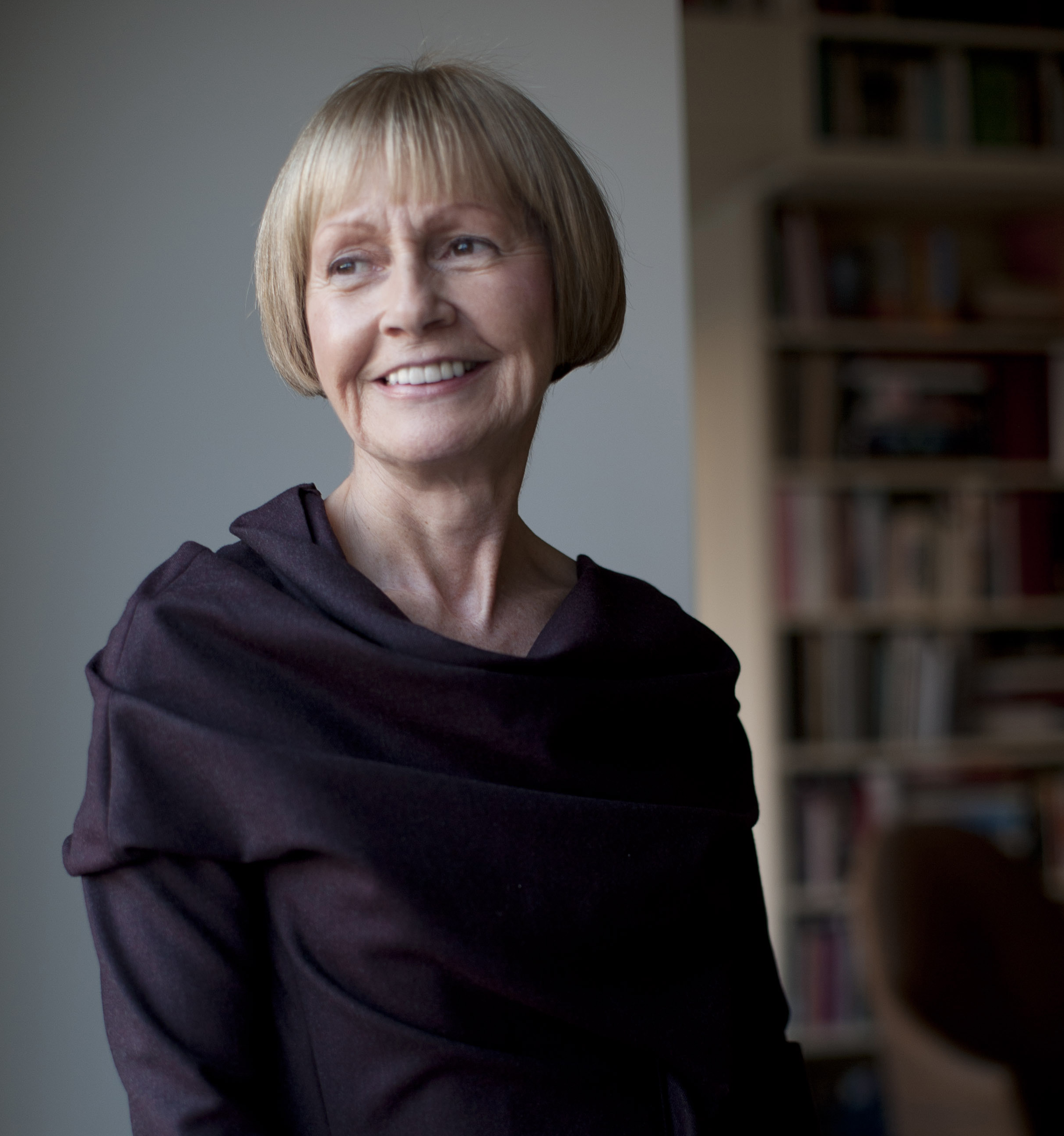 Mireille Guiliano, best selling author
All the skill of art is not able to make an oyster.
– Anatole France
Smell it. Slowly consume it—juices and all. Eat a dozen with some well baked rye bread, salted butter, and a touch of lemon. Add a much needed glass of Champagne or Sancerre or Chablis, and understand its incomparable charm, and why the oyster is the most sensual seafood in the world. Love's goddess, Venus, rose from the sea in an oyster shell, and she gave birth to Eros, and its erotic archetypal history took hold. It inspired Greek myth, medieval romance, Renaissance art, and other contemporary pearls. It was lusted after by Louis XIV, by Balzac, by Hemingway, Chagall, and Camus. It's an icon. It's universal. It's poetry.
Mireille Guiliano's latest book, a departure from her well known style books (notably French Women Don't Get Fat), has found yet another niche in a publishing world much in need of it. Her Meet Paris Oyster: A Love Affair with the Perfect Food (Grand Central Publishing, $20) is an elegant and personal narrative about Paris and oysters, and about the protagonist of the book, the inimitable and opinionated Regis, the oyster king and mystery man who owns the famous "Huitrerie Regis," perhaps the most famous oyster restaurant in the City of Light.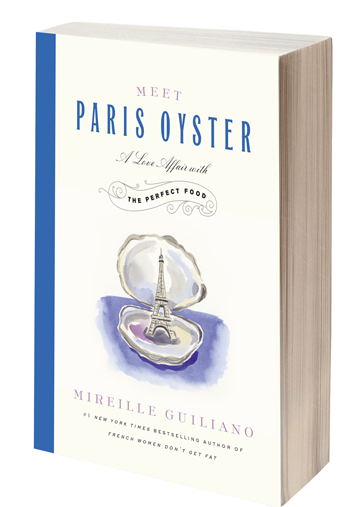 Guiliano's book is dexterous as it artfully interweaves her own cultural thoughts on Paris and its inhabitants with the engaging antics of Regis, the man with no last name mentioned in the book. Regis is heroic Homer or Odysseus or Dante, in need of no last name—just Regis— the man who fought with his credit card machine, which was often inoperable, and who proceeded to toss it to the floor and to stomp on it before his customers, none of whom was appalled: in fact many joined in and helped him stomp. Such is Regis, "a comical, complicated" raconteur with a magnetic personality and a singular eye for the ladies. Oysters have indeed served him well.
At the court of Huitrerie Regis, he hosts loyal international clientele, personalities, many women admirers, eccentrics, lots of volatile old pals and regulars, new customers, a Pakistani seller of newspapers, all of whom work their day around his restaurant hours. Upon arrival, there are personal greetings—he knows the first name of nearly all his customers—followed by repartee, which, Guiliano remind us, is essential to the French character. The restaurant is small: it's in the stylish 6th arrondissement (rue Montfaucon #3); the place has "atmosphere that hasn't an atmosphere," says Guiliano. It seats only 14 (there are only seven tables, plus a few outside); no reservations accepted; it's stylish, aesthetic (designed entirely by Regis), spotless, with exquisite plates and fine dining utensils and glassware, along with an exquisite wine cellar, chiefly consisting of obligatory white wine—Champagne, Chablis, Muscadet, and Sancerre (Regis' favorite, produced specifically by Daniel Crochet or by Alphonse Mellot).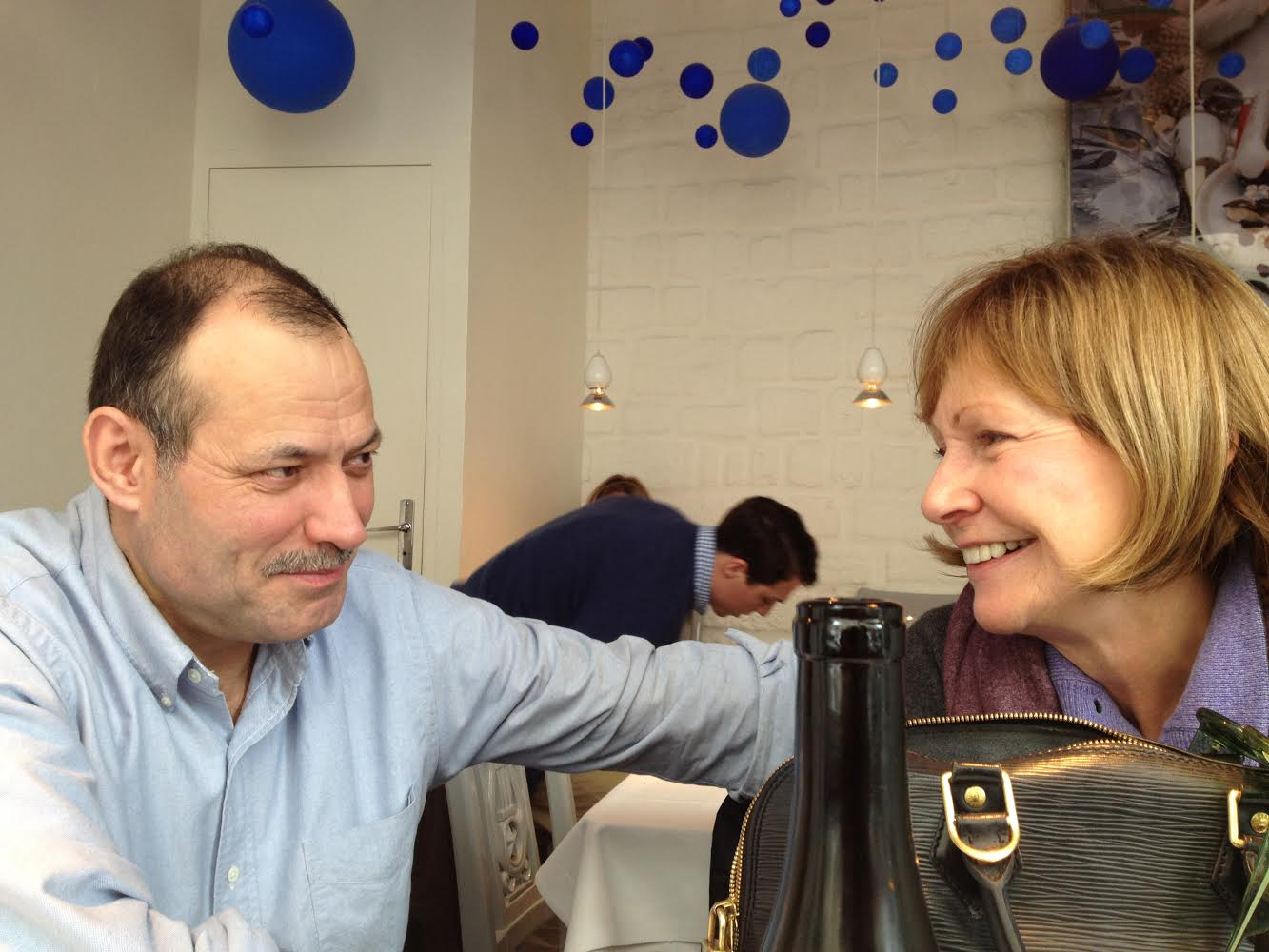 Regis Morellet and Mireille Guiliano
Tasting an oyster is like tasting wine, says Guiliano, an expert wine taster and for years the CEO of Veuve Cliquot: observe the size, color, and aroma of the oyster; chew slowly and experience the texture, taste, and salinity; and revel in the length of the finish. At Huitrerie Regis, several "formulas" are available with the least expensive costing 25 euros : fines de claires; fines de claires verte (fleshly with green hue); speciales de claire; (fleshly marine aroma); and pousse en claire (rare oysters that have a sweet long finish). In France, the largest oyster consumer in Europe, the oyster industry is carefully regulated with a monastic resolve for quality. Regis's oysters come from one of France's two outstanding appellations, Marenne-Oleron (the other is Aven-Belon). With oysters, their terroir (their aquatic environment) is everything, as it is with wine.
Oysters still have its naysayers.There is the fear of being ill, which Guiliano claims is needless. You can tell a bad oyster, she says, simply by smelling: if it doesn't smell right, or if it's dry, then discard. An oyster is only good for four days. Nonetheless,there are those who side with Ambrose Bierce and think of the oyster as a "slimy, gobby shellfish"; or with Woody Allen, "I will not eat an oyster. I want my food dead, not sick, not wounded, dead." Hemingway has a warmer view as seen in some lovely melancholic lines from A Moveable Feast: "As I ate the oysters with their strong taste of the sea and their faint metallic taste that the cold wine washed away . . . leaving only the succulent texture, and as I drank their cold liquid from each shell, I lost the empty feeling and began to be happy."
Guiliano's Meet Paris Oyster offers all kinds of advice with a skillful and stylistic economy of prose. Opening an oyster: Use rubber gloves or a dry towel to hold the oyster, insert a knife, slide it about till you find the oyster's hole; leverage the knife and twist; be sure to retain the liquid, and pry the top of the shell. Best time to eat: from September to March—all the months with an "r" in them—because the oyster is at its tastiest and freshest. French Producers: Gillardeau, the finest family producer in France from Marennes-Oleron. Nutritional value: a "powerhouse with antioxidants and Omega 3 fatty acids." Recipes: a dozen showing the versatility of the oyster—roasted oysters, fried or oven fried, in stews, in omelets, with crème fraiche, oysters Rockefeller or oysters a la Normande. Oysters, cupped or flat ones (the most prominent) are not only versatile, they are found all over the world.
Guiliano's "charming book" is, as Chef Barbara Lynch says, an "ode to the oyster," that most splendid food for the soul. And Regis supplies it. One of his friends, Christiane, sums up this enigmatic host: "Regis is the only commercant she knows who does what pleases him rather than pleasing the customer. Yet he loves to connect and sit down with the customer at the end of a meal and talk and listen. He has integrity, rigor, perfectionism . . . a rare thing. He is interested in only the best and is uncompromising in that regard to anything or anybody." Capturing the complex character of Mr. Oyster and weaving her personal history within it objectively is the very success of Guiliano's book . . . a rare thing these days.
P.S. Twenty years ago I interviewed Julia Child, and asked about her favorite appetizer. She got up, went to the refrigerator, pulled out a large platter, and said "oysters, of course," and proceeded to bring out a host of oyster tools, and said "shuck." I panicked. "You prefer," she said, "to 'consider the oyster' from afar," saying it with mocking disdain. Hands on hips, she gave me one of her stares that proclaimed I was pathetic. Seeing, however, that I brought her a bottle of Krug, her favorite Champagne, she gave one of those high toned Julia Child laughs, and said "Krug and oysters; oh, good. I'll shuck."
Oyster Experience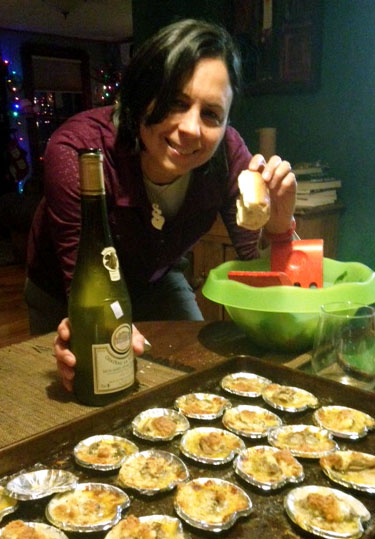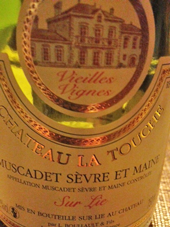 Julie Whitlow enjoying a recent "oyster experience" –
baked oysters and Muscadet Sèvre