The Legacy of Giacomo Tachis

A Contrarian Opinion
Tom Maresca
---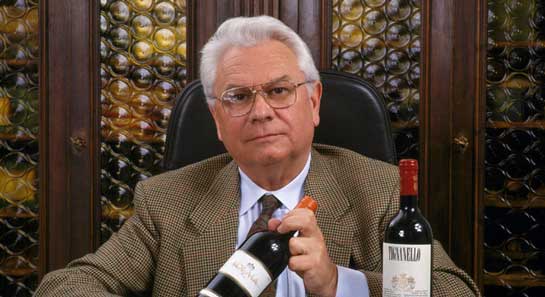 Photo: Mick Rock/Cephas
Some weeks ago, when the news of Giacomo Tachis's death was fresh and the tributes to him were appearing daily in every imaginable wine publication, I posted on my blog a contrarian view of his impact on Italian wine. I agreed that he and his employer, the Antinori firm, unquestionably made Tuscan wine fashionable back in the Sixties, Seventies, and Eighties, and that their exploitation of Sassicaia, Tignanello, and Solaia was not only a great commercial success for them but also seemed to point a direction for Tuscan wine and perhaps Italian wine in general.
And there, as far as I am concerned, was precisely the rub. I believe that Tachis's and Antinori's important influence in the world of Italian wine had a powerful deleterious effect on the development of Italian viti- and viniculture. Under the influence of Tachis's magic touch, vineyards of Cabernet sauvignon and Merlot popped up all over the Chianti Classico zone, other parts of Tuscany, and other parts of Italy, in most such cases delaying the cultivation of indigenous varieties and driving some native appellations into economically perilous corners (notably at the time, Chianti Classico, which was all too often dismissed as old-fashioned and inferior). This was not merely a passing problem: Those vineyards of Cabernet and Merlot and Syrah are still there, and their grapes are still adulterating indigenous blends and commanding high prices for the resulting Super-Somethings.
Tachis's example, and his practice as a consulting enologist, consistently spotlighted international varieties, most usually Cabernet sauvignon. Now, Cabernet sauvignon is a particularly dominating grape: Just a little of it in a blend with Sangiovese, or even with Nebbiolo, takes over the wine and all but obliterates the Italian variety – so the main consequence of Tachis's influence, in addition to retarding the development of indigenous Italian varieties, has been to fill the markets with wines from all over Italy – but especially Tuscany – that don't taste at all Italian and, in fact, all taste more or less the same. No distinctive varietal character – unless it's Cabernet – no taste of the soil, no sense of the whereness of the wine.
I think of this as the Pepsicolization of Italian wine. And for that I hold Tachis and the Antinori firm primarily responsible. They didn't invent the term Super Tuscan, but under its aegis – and it was a powerful public relations weapon – the "international varieties" became the dominant force in Tuscan wine, perhaps in Italian wine generally, while great native grapes often languished because there was not perceived to be a market for them.
Well, I expected some pretty negative responses to that post. To my surprise, I got only one half-hearted objection. Instead, I heard from many of the major American writers about Italian wine, endorsing what I'd said and congratulating me for having the guts to say it. Even Burton Anderson, whom I regard as the father of us all, dropped me a line from Italy expressing agreement: "Everywhere [Tachis] went, he imposed a style of winemaking that compromised native varieties."
Pleased as I was with all this agreement about a figure so revered – was it Jancis Robinson, or some other British writer who credited Tachis with singlehandedly "dragging Italian wine kicking and screaming into the twentieth century"? – the more I thought about the situation the more I realized that blaming Tachis and Antinori exclusively was too facile, just as it was far too facile to credit him exclusively with modernizing Italian winemaking (think for a second just how insulting that "kicking and screaming" was and is to countless Italian vintners). There were unindicted co-conspirators I was letting off the hook – and the more I thought about that, the more I realized that some of them, to paraphrase the immortal Pogo, is us.
We ladies and gentlemen of the press – especially the British press – aided and abetted this misrepresentation of Italian wine, some of us innocently, some ignorantly, some opportunistically, some cynically, some out of sheer indifference and laziness. Finding out the truth takes work. Research takes work. Fact-checking takes work. Actually tasting all those wines you're dismissing as plonk takes a lot of work, and with a few honorable exceptions, the British wine press way back then was very averse to work. Many of them, if not all, had ties to the wine trade, consequently had wine to sell, and that had to be done in a gentlemanly manner, so that the trade aspect of their occupation would be minimized. Besides, they knew – knew – that all Italian wine except Sassicaia, Tiganello, and Solaia, was plonk. (Nicolas Belfrage tells me that a surprising number of Brits still believe that, by the way.)
The American press in its own way wasn't much better. We collectively were under the spell of California: Modern technology and massive fruit made great wine, and Italy – except for Sassicaia, Tignanello, and Solaia, of course – was backward and out of step with the times. The wines were poorly made, untechnological, lacking fruit and high in – of all things – acid. Yuch. Super Tuscan was such a catchy phrase, and Cabernet is grown in California too, so that must be OK, right? At least we knew what it tastes like, unlike all these other names-ending-in-a-vowel grapes that we didn't have the time (deadline pressure, you know) to learn anything about.
That's all a bit of a caricature, to be sure, but it is true to the unspoken attitudes that shaped a great deal of wine journalism then. I'm honestly trying not to be too cynical or too harsh on anybody. It was another time, and the United States was really just beginning to engage wine in a serious way. There was a lot of innocence and inexperience and just plain ignorance. I was there, and I was young and stupid, and I'm sure I contributed my share of ignorance too. I know I've learned a lot since then, and I know I have much more to learn. But of this I am certain: Wine journalism imposes as serious obligations as any other branch of knowledge. People's livelihoods depend on the judgments we make and the things we say. Other people spend their hard-earned money on the basis of what we write. We owe it to all of them, as much as to ourselves, to check our data as thoroughly as we can, to admit when we've screwed up – and even to point out when our idols have feet of clay (or Cabernet).