James Carmody

Boston Wine Expo President Steps Down
Richard L. Elia
---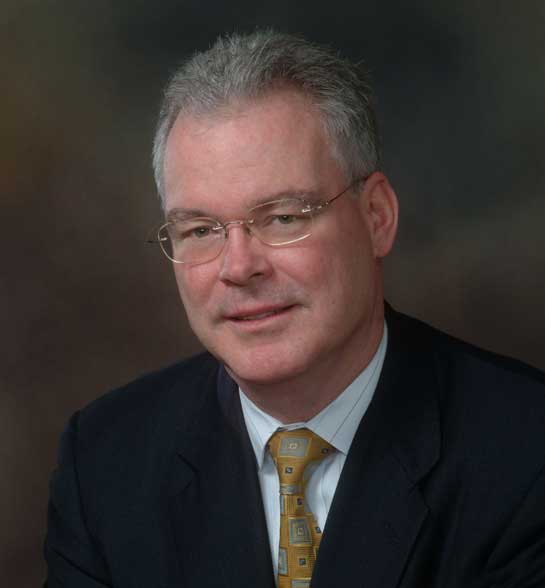 Photo: Bachrach Photographers
The announcement that Jim Carmody was stepping down as president of the board of Boston Oenophiles, the group that oversees the Boston Wine Expo, gave many of us pause. Carmody was the catalyst for the organization and nurtured its 25 year growth. One fellow Board member lamented his departure saying that his "energy is inexhaustible. He kept the Wine Expo on course. He was secretary, president, overseer, and general factotum. His is a difficult act to follow."
Carmody is a much respected member of the Boston business communities. He seems to know everybody, especially the players in the city—politicians, medical executives, real estate and financial moguls. He also works for one of the major player's in the city, Fidelity, which owns Seaport Hotel, where Carmody is general manager and vice president. A hotelier for the last 40 years, he has journeyed the country working at Four Seasons Mandalay in Dallas, the Omni in Atlanta, Boston Harbor Hotel, and at Boston Seaport Hotel, which also oversees the activity of the World Trade Center, the home of Boston Wine Expo.
Jim Carmody has presence, height, a well-defined heft, an engaging manner, and a firm handshake. He has been described as a "hail and well met" fellow; those who know him also point to his quiet spiritual side, descriptions he doesn't dispute. Gregarious, generous, winsome—"I'm Irish," he happily declares, which also means in his heart of hearts he's a raconteur in the best Irish oral tradition. His memory is keen and long, and his narratives can become mini comedic epics. The spiritual side—the generous side—has to do with the many charities he supports and underwrites. His life is a list of caritas, of Hospitals Boards, of volunteer services, of Homeless Veterans, of Disabled Children.
His biography and background resemble the archetypal American dream; it's a bit of the Horatio Alger without the shlock. It's not a rags to riches stereotype, so much as another Boston Irish success story. Anyone with a familiarity of Boston knows that one of the most successful ethnic groups have been the Irish. The storyline is similar: post World War II, mid 1950's, humble beginnings, hard-working catholic parents, catholic schools, living in the hard-nosed section of Boston's Dorchester district, with success driven into his soul. It's the Alger of honesty and hard work. We allude to this; Carmody smiles a laugh: "I worked full time right through high school cooking at Howard Johnson's and Hayes Bickford restaurants. I actually managed a restaurant in my late teens while I was still in high school. You needed money, you went to school, you moved up."
Initially, moving on wasn't easy. After lingering a while at odd jobs, going to college, dropping out, only to return again, wife Theresa, then girl-friend, offered some direction: she suggested going to Madeleine Kamman's Modern Gourmet in Newton, Massachusetts, a cooking school she started in 1971. Kamman considered herself the "real French Chef"—"I am French and I am a chef," was her familiar refrain, one in which she directed at her only competitor, Julia Child, whose PBS show "The French Chef" was enjoying vast success. Julia refused to consider her competition or to have anything to do with Kamman, even referring Kamman's frequent letters to her attorney. Nonetheless, Kamman, who saw herself as the doyenne of the dining scene, insisted her students "neither read nor watch Julia Child." Reports have it that as a teacher Kamman was either respected or loathed: she was brutally frank and demanding, and those students who completed her courses often went to culinary fame (San Francisco's Gary Danko was one of them). Carmody was close to attending Kamman's school but a Massachusetts Restaurant Association scholarship spared him and sent him instead to a more famous school, the Culinary Institute of America.
After receiving the Massachusetts Restaurant Scholarship, Carmody's career was launched. Catholic education taught him how to study, and at CIA he received the highest GPA of any student in his class in the several "models" necessary for graduation. Soon, Cornell offered him an undergraduate scholarship. "I did very well at Cornell," Carmody says modestly, "getting very good grades, and I worked part time at Cornell as well. And along the way I got married." Career employment came, working food and beverage, a major position for anyone wanting to be a hotel general manager. The hotel world is often gypsy-like, moving from city to city, and it's never easy; it was no different for Carmody—"many moves over the last 40 years with a patient wife," says Carmody: "Dallas, Atlanta, Chicago, and Boston. I've been with Seaport Hotel since 2004." It's likely to be his last stop.
After 25 year at Expo, we asked Carmody to look back. "Wine Expos are everywhere now," said Carmody. "When we started Boston Wine Expo, there were only a few expos. Now there are about fifty, so competition is challenging. Wineries were eager to come to Boston, a major wine market.
I could call winemakers like Dan Duckhorn directly and extend an invitation, and they'd come. Today's it's different because major conglomerates like Diageo own any number of wineries. The intimacy factor is more difficult today. The dining side of the Expo was easy: Boston's dining scene was hot, and chefs in other cities wanted to be here as well."
"When we started, it was with the intent of making it a great winter event. It would be good for the city, good for restaurants, and good for hotels, which are slower in the winter months. The charitable aspect of the event was never out of our sight; the only question was which charities." The early Expos had a major draw: the black tie and major fashion statement evening called the Spinazzola Gala (named after Anthony Spinazzola, the Boston "Globe" wine and food critic, who along with Julia Child, spurred the Boston dining scene in the 1970s), a dinner-dance, where Boston's best chefs and some of the industry's best wineries were on hand. "Then we had a 2-day wine and food exposition. It was a glorious weekend," exclaims Carmody. "We've been talking about revising the Spinazzola event—the Expo definitely needs a gala evening, and maybe a major wine auction—but I know that there's another generation of young people out there who may not even know the name of Spinazzola, so it's a challenge. Making any expo imaginative and fresh is never easy. As an example, the 2015 Expo was hurt by a blizzard and by the closing of the Mass Transit System. We've had our challenges."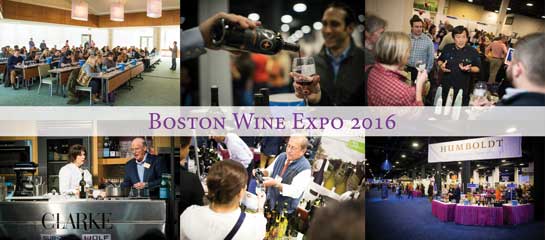 This year, however, "was all success," says Carmody. "It was spectacular: we had more than 10,000 visitors—the 2-day event was sold out. We had more than 200 wineries participating, more than 300 exhibitors, nearly every seminar was sold out, and we had star chefs doing their culinary wizardry to standing room only audiences. And most important, we distributed $1,321,400 to charities since its inception."
The charitable aspect, as Carmody noted earlier, has indeed never been out of sight for the Boston Wine Expo Oenophiles. One significant factor about the Expo was that it continued to be a singular success over the years, even amidst global wine expositions, along with several serious economic downturns. Expo was a God-send for charities whose funds amidst economic woes were telling. In 2011 charitable giving totaled $1,146,400. It has increased every year. Since 1993 over $4,000,000 has been raised for Leave No One Behind, an annual dinner benefitting the New England Center for Homeless Veterans. More than 30 charitable societies have been served by Boston Wine Expo, a fact that makes Carmody pleased. The New England Medical Center Children's Summer Camp Program has been the largest recipient receiving nearly $500,000, followed by New England Center for Homeless Veterans ($124,000) and Dana Farber Cancer/Pan Am Challenge ($113,500).
Wine works! It brings out the best in people, and it encourages charitable giving. Add culinary excellence to fine wines and you have an event that speaks to old world charm, to joie de vivre that never fails. Both make the world a better place. Carmody agrees and smiles, "it's a winning combination."