French Rosé Country

Sue Dixon
---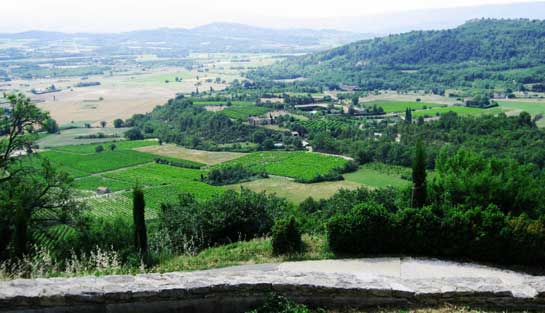 Vineyards in Provence
The word rosé as a description of a wine is far more evocative than the standard names white or red. It immediately conjures up for me the scent of roses and Provençal sunsets. However, I don't ever recall a sommelier or wine waiter ever inquiring whether madame would like a rosé. Yet this wine, so dreadfully underrated for so many years is at last coming to the fore. Forget the stereotypes Blossom Hill, Echo Falls and the saccharine sweet ubiquitous Mateus Rosé of yesteryear. Top producers, particularly in Provence, have upped their game to appeal to even the most discerning white and red drinkers.
When I lived in France some 30 years ago the only rosés worth considering were those of the Loire region notably from Samur and Anjou. But now everything has changed – the wines from Provence are drier and their quality has gone up and up. On a recent trip to Provence I was able to sample first hand this amazing revolution. Although my hotel nestled in the Luberon hills was not many miles from the famous Châteauneuf-du-Pape vineyard I chose to ignore its strong full-bodied reds for something crisp and spicy and tasting of summer.
Hand harvesting, stainless steel fermentation and barrel ageing have all helped to up the quality. However there is nothing like getting celebrities on board to promote your product and Brad Pitt and Angelina Jolie's 2014 Miraval Côtes de Provence Rosé was the talking point of every English summer garden party. Not cheap at some £18 a bottle, it has been made with the help from Rhône maestro Marc Perrin and is described as gariguette strawberry-scented with overtones of dry fresh pear.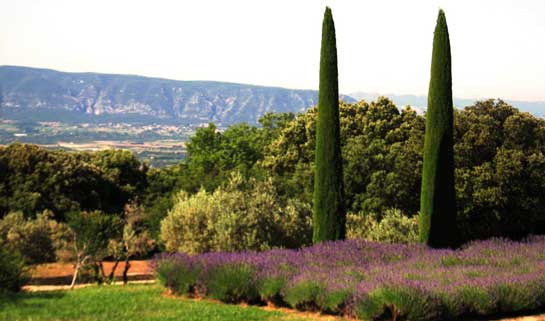 Although now living back in cold rain-soaked England I retain deep in my memory all the sights and senses of Provence and that first glimpse of Mount Victoire from my train window tells me that I am home to the heavy scent of rosemary and lavender fields and the lazy drone of bees. In such an environment is the wine estate of Domaine Sainte Lucie in Puyloubier close to where Cézanne painted. Their classic rosé is a good choice with grilled salmon or prawns and bursts with brilliant red berry-stashed fruit.
A little distance away is Aix and its environs, synonymous with another famous painter, Van Gogh. Here you can find the excellent Château Pigoudet La Chapelle Rosé, Coteaux d'Aix en Provence. This has been around for years but still continues to deliver with a base of spicy syrah and perfumed cinsault enlivened with a splash of white ugni blanc. At £8.99 a bottle this is very affordable.
However if you really want to push the boat out what about sampling the world's most expensive rosé Lichine's 2013 Garrus. This hails from Sacha Lichine, whose Russian father, Alexis Lichine, transformed Bordeaux fourth growth Château Prieuré-Lichine. Sacha was determined to make a serious pink, fetching serious money at his grand Château d'Esclans estate at La Motte and has succeeded – thanks to oak ageing, lots of TLC and rare Provencal grapes. At over £100 a bottle however I am more than happy to toast the end of summer with a delicious glass of Miraval.
Note: It goes without saying that Rosé wine should always be served super, super chilled — on my last visit I even saw some French women putting ice cubes in their glass of Rosé. This was a first for me!