Elena Walch:
An Estate in the 'Hands of Women'

Tom Hyland
---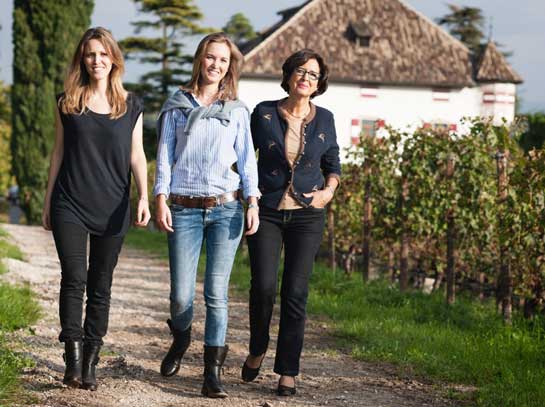 Julia, Karoline and Elena Walch
For decades, tradition has played a vitally important role throughout the Italian wine industry. Today, second and third generation sons and daughters carry on the work of their parents and grandparents, crafting wines that bring with them the heritage of their land. It's a finely etched portrait that truly defines a great number of wine estates.
But little by little, there are some producers that enter the wine business through the side door. Elena Walch, among the finest producers in the northern Italian region of Alto Adige, is an example of this approach. Born in Milan, she moved to Alto Adige at an early age and became strongly tied to the traditions of this region, a territory where German influences in food and wine are a vital part of its identity.
Walch studied to be an architect in Venice and soon after realized the work possibilities available in Alto Adige; she had her own studio there for years, where she was able to design, plan and construct a variety of projects.
After a few years of work there, she met her future husband Werner, whose family was producing wines in Tramin, one of Alto Adige's most important wine villages. "We lived in a fabulous house that seemed to be a chateau, surrounded by large carved wooden casks, barriques and stainless steel tanks," she recalls. "I lived in the center of the wine producing world. How could I live untouched by this world?"
I asked Walch if she could compare the work of an architect with that of a wine producer – is there a similarity in the discipline? "There are several important common facts," she remarks. "The respect for nature, being able to plan far ahead before you start to create something new and finally, finding a solution for new problems."
She notes that becoming part of a wine producing team was a bit of an adjustment for her at first. "I was used to working independently. Back in those days, there weren't many female architects and it was the same when I moved into wine. Both industries seemed to be male-dominated."
Walch's first wines were from the 1988 vintage; she still recalls her first wine, a Chardonnay ("You never forget your first love") she called Cardellino, meaning "elegant." "It was delightful, young and easy to drink; but concentrated with minerality; it was the perfect white wine for many occasions."
Today Walch and her husband own 135 acres of vines under cultivation; the most prized are two estates just outside the town of Tramin, namely Castel Ringberg and Kastelaz. The former, at 50 acres is the largest single contiguous estate in Alto Adige; it is planted to Pinot Grigio, Sauvignon Blanc (referred to simply as Sauvignon in this part of Italy), Chardonnay, Riesling, Lagrein and a small percentage of Schiava, a local red indigenous variety. Kastelaz, with its rare (for Alto Adige) full southern exposure, sits at an elevation averaging around 1150 feet and is planted to Gewürztraminer, Pinot Bianco and Merlot.
Walch produces two lines of wines; a classic marque and the estate wines from these two vinryards. She has received great acclaim for the estate offerings, especially the Kastelaz Gewürztraminer, which has been awared a tre bicchieri designation — the highest possible — from the Italian wine publication Gambero Rosso for thirteen consecutive years, an almost unheard of accomplishment (this puts the wine in a similar status to Sassicaia, to make a comparison).
Being honored for any wine is special, but it is especially fitting for Gewürztraminer, as Tramin is its spiritual hometown; the word gewürz in German means "spicy," so Gewürztraminer is "the spicy one from Tramin." There are a few dozen notable versions produced in the region, with the finest always seeming to originate from vineyards in Tramin.
The variety is quite distinctive, from the deep pink hue of its grapes at harvest time to the unmistakable perfumes of lychee, grapefruit, yellow roses, ginger and lanolin. That might seem like a wine with a limited appeal, but as Walch points out, it is the most requested Alto Adige variety for the Italian market. "Italians regard this variety as the perfect partner for their meals, from start until finish," she notes. "However, outside Italy, Gewürztraminer is a specialty product. This will be the next challenge for my daughters (Julia and Karoline, who studied wine outside of Italy and now work at the winery), to get the rest of the world excited about this unique variety."
From the Castel Ringberg site, the Pinot Grigio and Sauvignon are also very distinctive wines, thanks to high density planting and low yields at this vineyard. The soil is composed mostly of chalk, which gives these two whites well-defined minerality. Another factor for the quality and complexity of these wines emerges from the cellar, as 15% of each wine is fermented and matured in barriques; this for added texture, which certainly sparks the Pinot Grigio, a wine that is too often one-dimensional in other parts of Italy. These are marvelous food wines; Walch recommends all types of pasta as well as fish terrine and risotto for the Pinot Grigio, while she is a fan of asparagus (grilled or sautéed) as well as stir-fried vegetables for the Sauvignon.
After more than twenty-five vintages, Walch can reflect on her journey as a wine producer. "Every vintage, you learn more – you never finish studying. Nature changes and you have to adapt as well. For several years now, we have taken special care of our soils and have tried to give back as much as we have taken over the years. I believe that what we give to the soil comes back as grapes that are healthy and strong."
Walch has a twinkle in her eye when she discusses the future of her winery. She is overjoyed that her daughters have joined her in her work; "the three of us now run the estate – it remains in the hands of women! We all work toward a similar goal – to produce wines of the highest quality. To achieve this, you need to start in the vineyard.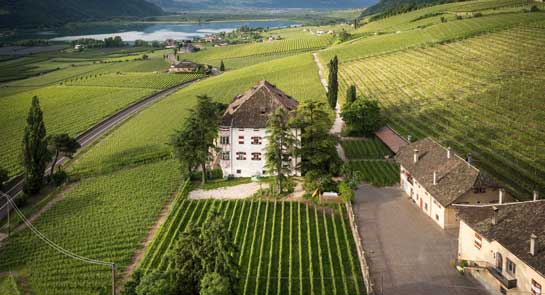 Tasting Notes
Elena Walch Pinot Bianco 2013, $15. Straw/light yellow; aromas of Anjou pear, lilacs and golden apples. Medium-bodied with good ripeness and freshness. Good persistence, very good acidity and balance. Nice varietal character – best over the next 2-3 years. VERY GOOD
Elena Walch Lagrein 2013, $17. Lagrein is a specialty Alto Adige red. Light purple, fragrant aromas of violet, purple iris, black plum and a hint of anise. Medium-bodied with very appealing ripeness, good acidity and round, supple tannins. May examples of this variety are quite sharp and oak-driven; this is not, as it is quite drinkable and elegant. Enjoy over the next 2-3 years. VERY GOOD
Elena Walch Pinot Grigio "Castel Ringberg" 2013, $23. Light yellow; inviting aromas of fresh, juicy macintosh apples and honey. Medium-full with very good to excellent concentration. Rich mid-palate, excellent ripeness, almost lush. Very good persistence, beautiful balance. Enjoy over the next 2-3 years. EXCELLENT
Elena Walch Sauvignon 2013, $25. Light yellow; beautiful varietal perfumes of gooseberry, peapod and chervil. Medium-full with very good concentration. Impressive persistence, very good acidity and balance. Excellent typicity- enjoy over the next two to three years. EXCELLENT
Elena Walch Gewurztraminer "Kastelaz" 2013, $32. Deep yellow; lovely varietal aromas of lychee, yellow roses and lanolin. Medium-full with excellent concentration. Beautifully balanced with very good acidity and a finish with delicate notes of ginger and yellow peach; impressive persistence. Enjoy over the next 3-5 years. Some examples of Gewurztraminer can be a bit over the top with deeply fruity, candied aromas that make the wine a bit clumsy; this is not one of them. Rather, it is a richly textured, harmonious style of Gewurztraminer that is ideal with Thai or fusion cuisine, turkey or even cornish hen. OUTSTANDING