Alta Vista Wines:
The Benchmark of Argentinean Malbec

Katie Curley-Katzman
---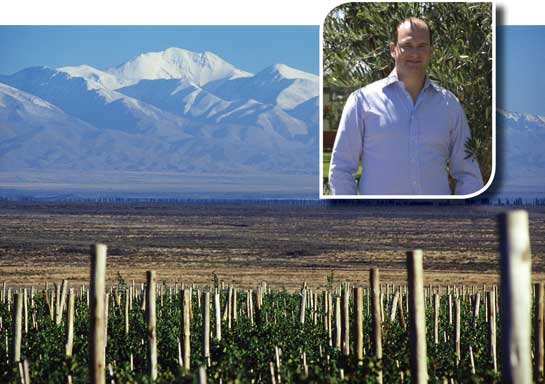 Alta Vista Vineyard. Inset: Patrick d'Aulan
It is no secret Malbec has been growing in popularity in the United States over the last decade. It has become the entry-level wine of sorts for millennials given its easy drinkability and low-cost. It's a fact Patrick d'Aulan of Alta Vista wines in Argentina is acutely aware of. He's a student of world wine trends and sees an opportunity to provide something exceptional and challenge what Malbec-drinkers have come to know about their Cot (an alternative name for Malbec outside Bordeaux). 
If anyone should know how to do it, it is d'Aulan — with his hand in both the new and old world of wine. His family has produced wine for 150 years in France and owned the famous Champagne house Piper Heidsieck until 1989. In 1998, he founded Alta Vista winery in Argentina and pioneered the creation of single vineyard Malbec wines in 2001. He has since gifted the trademark concept and use of "single vineyard" Malbec to the Argentinean National Viticulture Institute while Alta Vista's three single vineyard Malbec wines are considered to be benchmarks of Mendoza's old Malbec terroir wines.
Since 2000, d'Aulan has been involved in resurrecting Chateau Dereszla, a First Classified Growth estate from the UNESCO world heritage prestigious Tokay region in Hungary.
He calls what is done at Alta Vista  "haute couture," and with a deep commitment to the styles of the old world, gives much of the credit to his vineyard's superb terroir at an elevation of 3,200 feet, located in the best areas of Mendoza and Cafayate.  "We believe you can taste the difference in the single vineyards," he says. "We use centuries-old vines, we are surrounded by olive trees, the Andes, you can only make good wines."
d'Aulan's head winemaker Matthieu Grassin, also French, is admittedly fanatical about his wines. On a recent afternoon at a restaurant in Boston he tasted Alta Vista's Cabernet and smiled. He says it tastes better in restaurants because he's used to tasting the wines each day during fermentation — paying close attention to the wine's progress as it ferments and before it undergoes aging.
At the helm for about 8 years, Grassin has learned just what it takes to produce the level of consistent quality, Alta Vista  has become known for. Using heat mapping, a visual summary of information, vineyard workers harvest the grapes at their peak and at a winery with the latest and greatest in technological advancements, Grassin is able to capture lightening in a bottle while staying true to wine making traditions.  "I'm a tech junkie but you still need to taste all along," he says. 
Each wine is aged in wood or steel for a year minimum and cellared in the bottle for at least three months. Alta Vista's  Alto spends 36 months in the cellar before distribution.  The wines are as stylish as they are romantic and isn't that the perfect combination of the old and new world? The collection of single vineyard malbecs reading like a love story; Themis — the god of love, Serenade — a love song and Alizarine, the French word for a beautiful crimson red color and a nod to Bordeaux. Each one, carefully sourced from vineyards at three different elevations and from varied soils. "We wanted to show the effect of terroir,' Grassin says.  And if you're not sure how you personally define terroir, the single vineyard collection will make it clear. The "Temis" is floral with beautiful acidity and a hint of sweetness while the "Serenade"  is fruit and spice. The "Alizarine," like its name, is a beauty — full bodied, with violet notes. 
Alta Vista also makes a lovely Torrontés, which d'Aulan believes has the potential to be the next great wine to come from Argentina. 
Tasting Notes
2012 Alta Vista Premium Torrontés, $18.99. Vibrant and fragrant with notes of rose and jasmine, lively acidity and complexity. Aged sur lie in steel tanks. Easy drinking and pairing.
2013 Alta Vista Classic Cabernet Sauvignon, $19.99. Balanced acidity, low tannin, fruit and spice. The wine is aged in American oak for 6 months.
2009 Alta Vista Terroir Select Malbec, $28.99. It's the finish that you will remember long after. Ripe fruit, soft tannin.2011 Single Vineyard Temis, $47.99. Very floral, with sweet tannins. Great balance between grape and wood.
2011 Single Vineyard Serenade, $47.99. A love song to Argentina; energetic, fresh, black fruit and earth.2011 Alta Vista Single Vineyard Alizarine, $47.99. Grown in silt soil, a beautiful expression of the varietal. Hints of violet, chocolate and spice. Beautifully round with elegant tannin. 
2007 Alta Vista Alto, $85. The benchmark of Argentinian Malbec. Complex fruit and chocolate, silken tannin and complex finish. Aged 14 months in new French oak barrels and at least 12 months in bottle. What all Malbec should strive to be.