Required Reading:
Great Whites from Neglected Alsace
Tom Hyland
---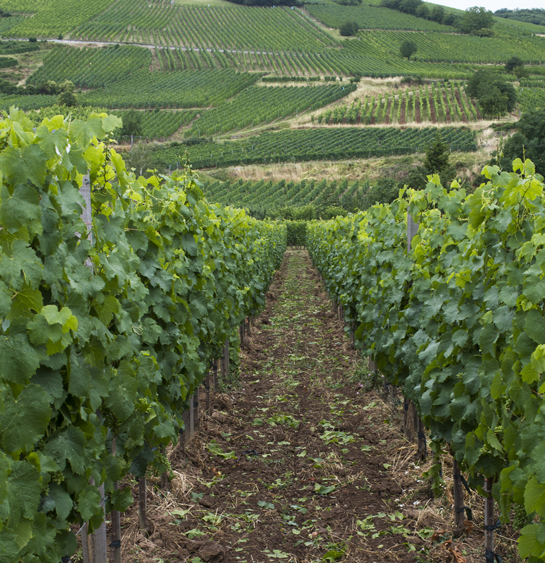 Tom Hyland, photographer
Vineyards near Witzenheim, Alsace
Alsace is the home of some of the world's most accomplished white wines, but sometimes I wonder if the wine industry notices. These days white wines always take a back seat to reds as far as media coverage as well as ratings, a fact that doesn't seem as though it will change anytime soon.
So given this situation, the producers of Alsace have to fight a little harder to get their message across. After a brief visit to the area in June, I came away with the belief that the local vignerons are certainly doing the most important thing they can control – producing first-rate, sometimes outstanding wines with beautiful focus that splendidly display the origins of this territory in far northeastern France.
It really shouldn't be difficult to sell these wines, as they are labeled by the grape type, be it Riesling, Gewurztraminer, Pinot Gris or a few others; there's also Pinot Noir for red, if you're looking in that direction. Most wines are blends of several plots, while there is also a small percentage of single vineyard wines known as lieux-dits from a few of the finest firms. The most heralded vineyards are classified as Grand Cru; there are 51 of these in Alsace and these are the wines that bring the region its viticultural fame. These offerings are often expensive – in the $50-$90 retail range in the United States, so maybe that's too much for consumers searching for a notable white wine, but then again, pricing hasn't been a deterrent to similar offerings from the Burgundy region.
Trimbach Estates
One of the most famous names in Alsace is Trimbach, a firm that was established in 1626. Over the years, the family has acquired some stellar parcels, primarily in the southern part of the region, known as Haut-Rhin; the winery itself is situated in the small town of Ribeauvillé. Today, brothers Pierre and Jean, representing the 12th generation, manage the firm, while Jean's daughter Anne serves as a combination ambassador and export manager.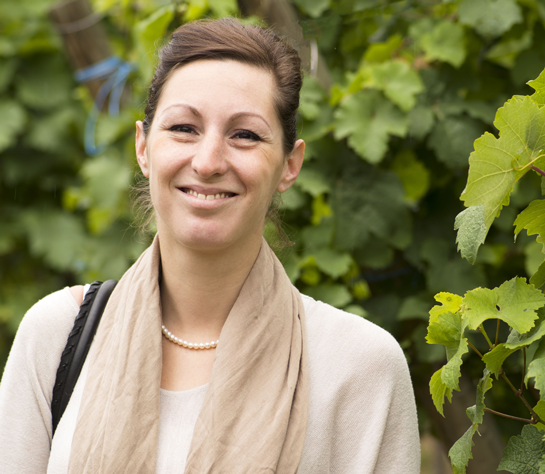 Tom Hyland, photographer
Anne Trimbach
I met with Anne at the winery and tasted through the new releases, beginning with the 2011 Pinot Gris Reserve ($18, a wonderful value). Here is an Alsatian wine that is often overlooked; no doubt due to the image of the grape, known as Pinot Grigio in Italy. The latest Trimbach offering has notable texture with appealing pear, orange and subtle tropical fruit; this is a delicious, charming wine that is fine on its own, but it's a particularly good match with the local choucroute or a simple chicken salad.
At the other end of the spectrum are two Rieslings – Trimbach is a Riesling house, with the variety accounting for 50% of the production – that are arguably the two most important wines for this firm. Both are sourced from Grand Cru vineyards, yet they are labeled with propietary names: Cuvée Frédéric Emile and Clos St. Hune. Both are currently from the excellent 2009 vintage; Trimbach explaining that "we should not sell our top Rieslings too early." Both wines are brilliant renditions of the variety, with outstanding depth of fruit (even more so on the CSH) as well as intense perfumes of orange roses and white peaches. Full-bodied with strong minerality, these are textbook examples of site-specific viticulture; enjoy these wines over the next 10-12 years, perhaps even longer for the CSH. These are priced accordingly - $55 for the CFE, $165 for the CSH – but they are among the world's most distinctive Rieslings, no doubt.
Domaine Josmeyer
At Josmeyer, situated in Witzenheim, about a fifteen-minute drive from Trimbach, the operative word these days is biodynamic. Vineyard manager Christophe Ehrhart, speaking about this practice, comments, "when you avoid any chemicals, you can reach a higher level of the expression of the terroir than otherwise."
Riesling is also a priority here and there are several offerings, ranging from the "Le Kottabe" (about $30) to the "Le Dragon" ($40) to two Grand Cru offerings from the Brand and Hengst vineyards ($65 for the former, $85 for the latter). The "Le Dragon" is especially complex and fragrant with a light chalky note in the finish; Ehrhart recommends this wine with carpaccio, scallops or a fish with beurre blanc.
Pinot Gris, which Ehrhart describes as "a Pinot Noir that lost its color somewhere," is a top priority at Josmeyer. I think people are surprised by Pinot Gris in Alsace," notes Ehrhart. "They think it's going to be a light wine." The 2011 "Le Fromenteau" is rich with beautiful floral aromatics and at 14% alcohol, is a serious dry version of this variety. It's priced at $30 retail and should drink well for another three to five years; local dishes such as terrine of rabbit or quail are ideal matches for this wine.
The 2010 Grand Cru "Brand" Pinot Gris has a light golden color with intriguing yellow peach and white pepper aromatics and a distinct minerality in the finish, no doubt a by-product of the chalky soils at this site. It's quite powerful in the mouth, yet it has great finesse and is a sleek wine with great complexity. Priced at $48, this should cellar well for another seven to ten years; Ehrhart recommends this with more exotic dishes such as pigeon with foie gras or even some fish with truffles.
Domaine Zind-Humbrecht
Earlier I mentioned how Alsatian wines don't get the publicity they deserve; that has not been a problem at Zind-Humbrecht, situated in the town of Turckheim, about five miles west of Colmar. The general manager here is Olivier Humbrecht, who just happens to be a Master of Wine, making him one of the few winemakers anywhere in the world to have earned that distinction.
That of course, brings immediate attention to this estate, but a sampling of the various wines here is evidence of why some of today's most famous (or infamous, if you will) wine gurus consistently evoke great praise on Zind-Humbrecht. Start with the classic line, priced around $25; the Pinot Blanc and Gewurztraminer are fine introductions to the Alsatian style of these varieties, as they are quite dry, offer impressive depth of fruit and have very good natural acidity. The Muscat, with its flowery perfumes, is an especially nice rendering, while there is also an unusual blend of Auxerrois (a humble, widely planted local variety) and Chardonnay known as "Zind." While a bit of an oddity for Alsace, the 2012 version of this wine, with appealing red apple and jasmine aromas with a hint of vanilla from wood aging, is a delicious dry white that would work well with a variety of foods, from shellfish to turkey; at $30, this is a nice alternative to Chardonnays from elsewhere.
While Riesling is an important variety at Zind-Humbrecht – as it is for virtually every Alsatian producer – I found that their finest work comes with two other varieties, Muscat and Gewurztraminer. I mentioned the classic Muscat earlier; the Grand Cru Muscat from the Goldert vineyard is as accomplished a Muscat as I've found from Alsace. The 2011 version is medium-full with attractive orange blossom and lemon peel aromas; medium-full, this is clean with ideal varietal focus. I love the delicate nature of this wine, as flavorful as it is, it comes across with a beautiful charm and finesse. I'd pair this with any sort of Thai or Chinese chicken, pork or shrimp dish or with lighter seafood, such as sole or tilapia. The price is $55; how nice to see Olivier Humbrecht pay so much attention to Muscat!
An absolute must for lovers of Alsatian Gewurztraminer is the firm's "Herrenweg de Turckheim" offering from an estate vineyard. Humbrecht ages this wine for eighteen months in 40-year-old French barrels and certainly he has hit upon something special with this technique. Clearly the fruit from this site is exceptional; maturing the wine in older oak adds texture, but keeps the proper perspective on varietal focus and the results are magnificent.
The 2012 is a powerhouse of a Gewurztraminer and it's not for the faint of heart! The aromas are classic, with notes of lychee, lanolin and ginger and the finish is explosive with excellent length and outstanding persistence. Trying to find a food as powerful as this wine might be a difficult proposition, so pair this with a simple spicy dish such as crab rangoon – it's a heavenly match. This is priced at $55 and I truly think this is superior to the Grand Cru Gewurztraminers from some other Alsatian houses. I'm a huge fan of this variety, so a hearfelt thank you to Olivier Humbrecht for this wine.
Maison Gustave Lorentz
Finally, Gustave Lorentz is an especially consistent producer that maintains a pricing system that's never out of line. Especially nice is their Cremant d'Alsace ($25), a sparkling regional specialty produced according to the classical method that is simply delightful (the word cremant translates as "creaming"; this type of sparkling wine is not as vigorous in its effervescence as Champagne, for example). The Lorentz version is a blend of one-third each of Chardonnay, Pinot Blanc and Pinot Noir; medium-full with appealing apple and lemon fruit, this is simply delcious and serves equally well as an aperitif or with most first courses. This is one of the most satifying examples of Cremant d'Alscae I've tasted in some time.
The reserve wines from Gustave Lorentz are in the $18-$25 range; notable releases are the Pinot Blanc and Gewurztraminer, both from the 2012 vintage. As for single vineyard wines, the 2011 Pinot Gris "Schofweg" ($35) is quite ripe and offers excellent depth of fruit, impressive varietal character and a subtle touch of spice.