A Great Barolo Vintage
2010: Cause for Celebration
Tom Maresca
---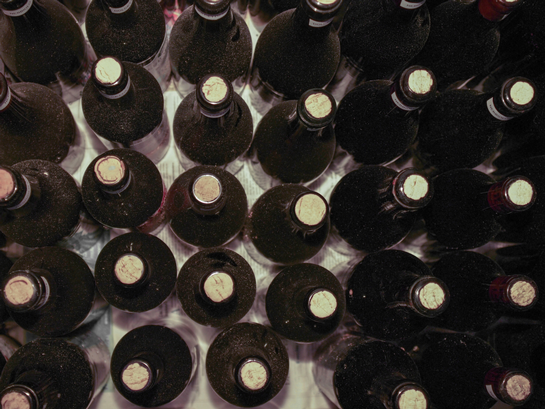 Here's a giant piece of very good news for Nebbiolo lovers: The just-now-coming-on-to-the-market 2010 bottles contain the best vintage of Barolo since 2004 – even better than 2004, in the opinion of some producers.
I concur with that: The best 2010 Barolos have thrilling Nebbiolo fruit, as clean and pure as I have ever tasted, combined with the kind of structure that presages a long, long life. And like the 2004 vintage, 2010 Barolo seems to be accessible and drinkable from the get-go. The hardest thing about this vintage will be to leave it to mature and not to drink it up too young.
Elisa Scavino of the Paolo Scavino winery sums up many growers' enthusiasm: "2010 was special from the beginning. It had grip, lightness, a beautiful drinkability, wonderful complexity. It is great without being too big. You can drink it young, and it will age for a long time. It's a complete Barolo."
Giovanni Angeli, winemaker at Massolino Vigna Rionda, is even more emphatic: "With 2004, 2010 is one of the best vintages of the past 20 years – almost a perfect vintage. We had nearly perfect ripeness of the grapes and the seeds and skins. The weather was ideal for Nebbiolo. The wines are complete, balanced, big, showing great potential to age but nevertheless approachable now – like 2004, but we think potentially even more long-lived."
Those two estates produced some of the finest wines of this very fine vintage, among the very best of roughly 200 Barolos (and half again as many 2011 Barbarescos) I tasted in May at the Nebbiolo Prima event in Alba. To be sure, not all producers realized everything that this harvest offered them: The barrique addicts particularly suffered. So pure and intense is the fruit of 2010 – the classic Nebbiolo black cherry, tar, tobacco, earth, and mushroom congeries – that even a slightly heavy hand with oak diminishes it. The producers who did best were invariably the most traditional – those who fermented in big botti and/or stainless steel, or those who, if they used barriques, used only those of second, third, and fourth passage. By those methods, the intense character of this harvest's Nebbiolo was fully preserved – and it is glorious.
As Giovanni Angeli said, perfect weather for Nebbiolo played a major part in forming the greatness of the 2010 harvest. The Barolo/Barbaresco Consorzio's report spelled that out in unusual detail and with unusual enthusiasm. Here is a very condensed version of that report:
The 2010 vintage endured a particularly long, hard winter. Heavy snowfalls ensured considerable water reserves in the soil, and April/May temperatures led to excellent bud break and vigour. Plenty of rainfall at the beginning of the summer. Mild temperatures at the beginning of August presaged late ripening, important for Nebbiolo. Higher temperatures prevailed from the last ten days in August through September, with excellent variations between daytime and night. Nebbiolo particularly benefitted from this, offsetting the slight delay in the ripening of the grapes due to the wet weather in July and early August. Ripening checks showed that sugars continued to accumulate during the second half of September, while the acid profile gradually dropped to very acceptable levels. Ripening of the phenolic components which are essential for ensuring body and ageing capacity has been excellent. Without question, Nebbiolo has responded sublimely this year.
Take my word for it, the usually cut-and-dried Consorzio reports do not often call anything "sublime."
Naturally enough, in a wine zone as internally varied as the 11 communes of the Barolo zone, neither the weather nor the winemaking skills and styles are uniformly distributed, and some communes performed markedly better than others. To the surprise of many tasters, in a field now dominated by cru bottlings, some of the outstanding wines were the "old-fashioned," classic Barolos blended from multiple communes. This group included familiar names like Bartolo Mascarello – the pace horse of the pack, in my estimation –Pio Cesare, Prunotto, Chiara Boschis's E. Pira, Batasiolo, and Sandrone, as well as lesser-known producers such as Luigi Oddero, Parusso, Deltetto, Clavesana, Terre del Barolo, and Cascina Ballarin.
That fine group of wines kicked off the tasting sessions at Nebbiolo Prima. The rest of the first day's tasting covered Barolos from the smaller communes – Cherasco, Grinzane Cavour, Novello, Rodi, and Verduno. There wasn't an unsatisfactory wine in that group, and several superb bottles stood out: Elvio Cogno's Ravera, Franco Conterno's Panerole, both from Novello; Negretti and Paolo Scavino's Bricco Ambrogio, both vinified from the only cru in Roddi; Burlotto's Gian Carlo and Bel Colle's classic Barolo, both from Verduno, and even the Scuola Enologica's Castello from Grinzane Cavour. My summary note for the day says it all: "If the tastings continue at this level, I will be over the moon."
Well, if I didn't make it over the moon I certainly got into orbit. The rest of the week's tastings covered, among other wines, all the remaining Barolo communes, all larger and usually regarded as more important than the first day's. Of these, I thought Barolo and La Morra performed best, followed by Serralunga, Monforte, and Castiglione Falletto. In the latter commune, outstanding performances were turned in by the before-mentioned Scavino and Massolino, whose wines were brilliant throughout their line, and by Roccheviberti, a small grower, practically a garagiste, whose wine was huge, and classic in every respect – a dream wine for fans of traditional Barolo. Claudio Viberti, the owner, agronomist, winemaker, cellarmaster, and all-around factotum, micromanages his two hectares of Barolo (other of his vineyards grow Barbera and Dolcetto, both fine) for maximum quality: Fermentation is in stainless steel, with long maceration on the skins, followed by long aging in small French oak, which, somehow or other, leaves no flavor trace in his wine, just an elegant polish.
In Monforte, the overachievers included Diego Conterno and Pecchenino, the former a smallish producer whose Barolo Ginestra was outstanding, and the latter medium-sized producer, with an equally impressive specimen of Barolo Le Coste. In Serralunga, the top wines for me came from Cascina Luisin, whose wine bears the mouth-filling name Leon del Commune di Serralunga d'Alba, and Ascheri, whose cru Sorano showed beautiful structure for long cellaring. In Barolo and La Morra, the overall level of achievement was so high that it is almost invidious to single out some producers as better than others, but – that said – I was nevertheless particularly impressed by Barale Fratelli's Castellero and Giacomo Grimaldi's Le Coste, both from Barolo commune; and, from La Morra, Serradenari's eponymous bottling, Monfalletto Cordero di Montezemolo's Monfalletto, Malvirà's simple (?!) Barolo, Aurelio Settimo's Rocche dell'Annunziata, Marcarini's Brunate, and Oreste Stroppiana's San Giacomo.
Overall conclusions? 2010 is unquestionably a very great vintage, certainly the best of this still-new century, and maybe the best since 1989 or 1990. This was also, for all the prominence of familiar names among those I've been citing, The Year Of The Small Producers. So many of my highest scores went to producers scarcely known to me, many of them former growers who have been bottling their own wine for, at the outside, 20 or 25 years, often considerably less than that. The Barolo and Barbaresco zones have come of age, and the level of winemaking throughout them is enormously high, high enough to match the potential of the many privileged vineyard sites they possess. It's not impossible – human ingenuity is infinite – to find a bad wine in this vintage, but it's going to be difficult. For Barolo lovers, these are glory days.
- - - - -
For the convenience of QRW readers, here are lists of the Five Star and Four Star wines I tasted in Alba. As you will quickly see, they are numerous, and I don't see the point publishing any further down my tasting notes. As you will also quickly see, tasting notes themselves are totally absent, for the very good reason that they would have been incredibly repetitious. So many fine wines, vinified from the same single grape in the same harvest, all present variants on the theme of tar/tobacco/black fruit/earth aromas, black cherry/mineral/mushroom/earth/tobacco/tar palate, and leather/dried fruit/ tar/tobacco finish – which, delicious as it may be to experience, no one should have to read ad nauseam.